PHOTOS: Sandra Bullock & Baby Louis Back In L.A. To Attend Funeral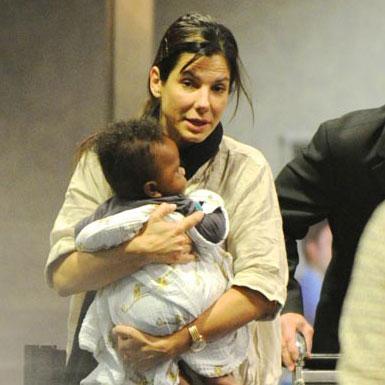 Sandra Bullock returned to Los Angeles with her sweet baby Louis on Saturday and the new mom was all smiles as she and the tot arrived at LAX, and RadarOnline.com has the pics.
The Oscar winning star returned to town to attend the funeral of Hollywood filmmaker Rebecca Spikings-Goldsman, the wife of screenwriter/producer Akiva Goldsman.
Bullock adopted Louis Bardo in January, but kept the details secret until after winning the Best Actress Oscar for her role in The Blind Side and after her husband Jesse's infidelities were made public.
Article continues below advertisement
Wrapped in a blue blanket, Sandra cradled her baby boy as she made her way through the airport. Sandra has been splitting her time between her homes Austin and New Orleans, and is often spotted around the small towns with Louis on shopping or errands trips. Her soon-to-be ex-husband has also purchased a home in Austin and plans to spend time near the actress and her son.
The box office darling has said she is taking time off from acting while she spends time with her new son.