PHOTOS: Paris Hilton Denies Making Nazi Salute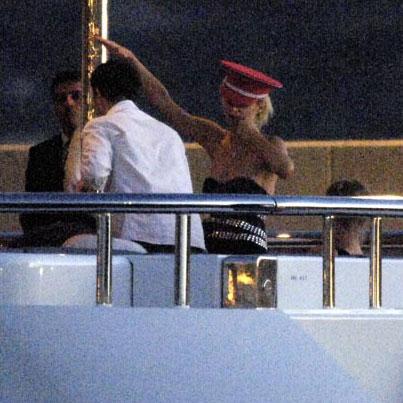 Paris Hilton has found herself in the eye of a storm during her vacation in the French Riviera, and RadarOnline.com has details.
The controversy began when photos surfaced Monday of the socialite flashing what appeared to be a Nazi salute and using her finger to simulate a mustache while partying aboard a yacht in St. Tropez on Sunday.
Hilton, 29, was also wearing a hat at the time.
A rep for Paris adamantly denies she was doing a 'Jesse James', that is posing in a Hitler-like fashion.
Article continues below advertisement
The rep told RadarOnline.com, "This is totally false. The photos are misrepresented. Paris did not make a reference to Hitler. Much of her family is Jewish as are the majority of her friends and she is very upset and offended at the allegations.
"She was wearing a captains hat given to her in a club, it was not military — and that the photos show her with her arm up, she was dancing with both her arms up, scratched her face with one of her hands. That provided the basis for photographers to make these erroneous claims."
Hilton has spent much of the past month traveling the world. Twice this summer, she's been stopped by police in connection with suspicion of marijuana possession, but not charged (charges were dropped against Hilton after she was detained July 2 at the World Cup in South Africa).