PHOTOS: Katie Holmes Is The First Lady Of Fashion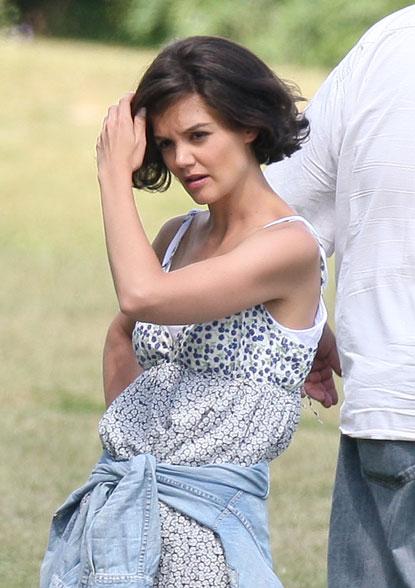 Modern-day fashionista Katie Holmes was the mirror image of America's most beloved style legend, Jackie Kennedy, while filming a History Channel mini-series on Wednesday.
Dressed in a colorful collection of 1960s style period dresses with a flipped-up bob, Holmes boasts a perfect baby bump as she plays the pregnant First Lady for the upcoming saga, The Kennedys.
Equally-stylish daughter Suri, 4, didn't seem phased by her famous mom's transformation – or by the faux belly! – as she ran in the grass and showed off her art work to assistants on the set.
Article continues below advertisement
Katie can also seen posing with her on-screen spouse, Greg Kinnear, who plays President John F. Kennedy – we hope Tom doesn't get jealous!
Cruise's statuesque wife said she was excited to play one of her top fashion icons.
"Her great style was both appropriate for every event that she went to and also classic, and also things that were wearable. I feel really lucky to be playing her," Holmes, 31, told Us Weekly.