K-Fed Is Well-Fed; Britney's Ex Packs On The Pounds - Again!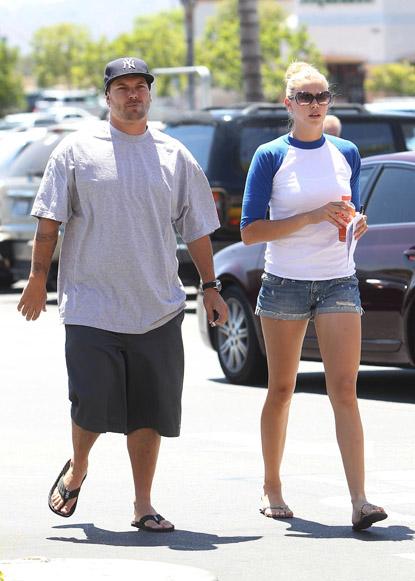 Kevin Federline has piled on the weight again after shedding almost 30 lbs on Celebrity Fit Club: Boot Camp, and RadarOnline.com has the new photos of the well-fed K-Fed.
Britney Spears ex-husband was snapped recently grocery shopping with his girlfriend Victoria Prince in Chatsworth, California.
Despite the fact Federline was wearing baggy black shorts, a huge grey t-shirt, flip-flops and a baseball cap, there was no disguising the fact that he has put the weight back-on.
Article continues below advertisement
K-Fed Loses Weight Gains Movie Role
The former dancer tipped the scales at 232 lbs, but lost 30lbs during his stint on the reality show, which also starred his former girlfriend Shar Jackson and singer Bobby Brown.
Celebrity Fit Club was originally filmed in November 2009 before airing in February this year through to April.
Fans of the show saw Federline sweat his way back into shape while taking-up a healthier diet but now, sadly, those good habits seem to have been forgotten as he appears flabbier than ever.
Federline – who had two sons with Britney Spears after the couple got married in 2004 – has admitted that he suffered from depression after their split in 2006 and this contributed to his weight gain.
While he appeared on Celebrity Fit Club, Federline infamously apologized to his former girlfriend Shar Jackson for dumping her to take-up with pop star Spears.
At the time their daughter, Kori, was just approaching her second birthday, while Jackson was pregnant with their baby son Kaleb.
And from these latest pictures it seems that Federline is still working through some personal issues as he tries to improve his health and build a new life with current girlfriend Victoria Prince.