PHOTOS: The Best And Worst Bikini Babes On The Beach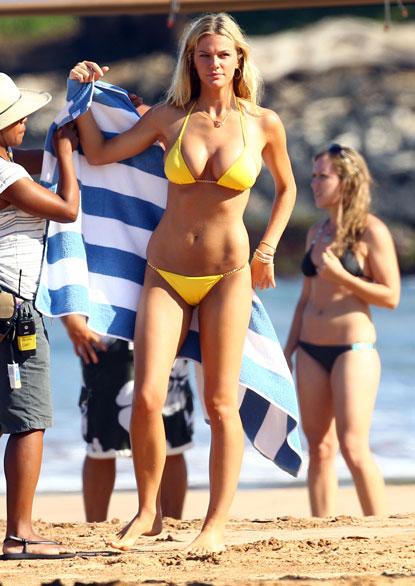 It is a sexy, summer style showdown between the hottest bodies on the beach as stars have been shedding their designer duds for skimpy bikinis, and RadarOnline.com has all the scintillating photos to prove it! From reality show vixens to lovely leading ladies, Hollywood's hottest have been catching rays and waves across the globe in sizzling and fizzling beach-frolicking fashion.
Lindsay Lohan was a St. Barths babe earlier this year, bringing the runway to the beach in a color-happy Emilio Pucci string bikini. We wonder if she is sporting the designer suit in the showers of her latest resort stay... at Lynwood Correctional Facility!
Article continues below advertisement
Everyone loves an itty-bitty bikini, but what happens when a busty bombshell takes it a little too far? Ice-T's curvy off-screen costar Nicole "Coco" Austin is infamous for her barely-there bikinis, and recently in Miami, onlookers got a little more than sun in their eyes when she hit the sand!
The Jersey Shore girls had a lot of fun in the sun, while filming their hit MTV show in Miami this year, hitting the beach in true guidette getup. While Snooki opted for a wild-print cutout one-piece and J-Woww sported a lingerie-like bikini, we were delightfully surprised by the Sweetheart of the group. Sammi was the babe of the beach, wearing a shockingly modest mix-and-match string bikini, which showed off her washboard abs in fine form.
George Clooney and Andy Roddick definitely know how to pick out the bathing beauties, as both Elisabetta Canalis and Brooklyn Decker added heat in their figure-flaunting swimwear.
Shauna Sand is famous for wearing Lucite heels everywhere she goes, but... on the beach? We could find several better uses for the American flag, than as a bikini top for the Hulk's ex-wife Linda. Apparently Hogan doesn't always know best!
What Dancing darlings and A-list ingénues showed off their hot bods in skimpy suits? Check out the gallery in Style to find out.