Exclusive
NEW DETAILS: Lindsay's First Day In Jail - Arrived Crying, Had Turkey Tetrazzini For Dinner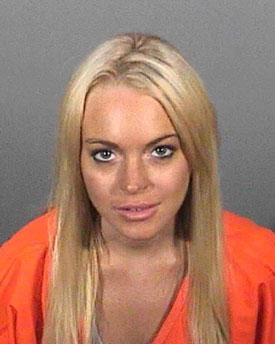 Lindsay Lohan's first day at Lynwood California's Century Regional Detention Center Tuesday was tough on the starlet, who'll be trading in designer leggings and late nights at the Chateau Marmont for orange jumpsuits and lights out lockdowns for at least the next two weeks.
While the red-headed film star came in crying, RadarOnline.com has learned, a woman leaving the facility Tuesday said that LiLo was briefly cheered up by words of compassion bellowed from her fellow inmates.
Article continues below advertisement
Released inmate Tiffany Hawes, who crossed paths with Lindsay on Tuesday, told the UK Daily Mail: "Lindsay was crying when she came in. She was handcuffed, but seemed calm. We all started saying 'God bless you Lindsay,' and saying 'Hi' to her and then she smiled at us."
Lindsay Lohan -- See The New Mug Shot
Jen Devey, another inmate who was released Tuesday, said Lohan "was nice and smiled but she'd definitely been crying.
"She's human, just like all of us, but she happens to be a celebrity with lots of money," Devey told the paper. "But she's still a person and she expletive up."
The facility implemented its lockdown mode for more than 60 minutes, the paper said, as the mega-star was strip searched and given a body cavity search upon check-in.
Then it was dinnertime, and Lohan's fare for the night was the un-Spago-like combo of turkey tetrazzini, apple sauce, broccoli and coleslaw.
While Lohan 24, is sentenced to serve 90 days at the CRDC, she's expected to only serve 14 days due to overpopulation in the facility.
Stay with RadarOnline.com for more Lindsay Lohan news as it breaks.