Lindsay Lohan Runs Off To Party And Abandons Her Assistant With The Cops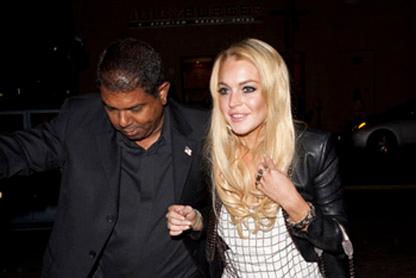 Friday was a night of non-stop partying for birthday girl Lindsay Lohan, RadarOnline.com can report. It wasn't such a great night for her returning assistant, Eleonore, who was smacked with a serious traffic citation, thanks to her boss.
Lindsay Lohan has somehow convinced her former assistant Eleonore to return to the job, but Eleonore might be reconsidering after Friday night's events.
She was the designated driver to chauffeur Lindsay, her sister Ali, and the ever-present Brit socialite Lady Victoria Hervey to Lohan's birthday party at Beso. They were running two hours late so Eleonore apparently tried to save a little time.
Article continues below advertisement
Just as she approached Beso, she was stopped by a cop for running a stop sign. Lohan and Hervey jumped from the SUV, leaving Eleonore to fend for herself!
Poor Eleonore's ticket didn't end with the "failure to stop" citation, however. She was also ticketed for driving a vehicle with "concealed plates" and front tinted windows. And it wasn't even her SUV!
Being the good assistant, Eleonore stayed on the job. When Linds left Beso at midnight, her assistant drove her to Colony Club, where she stayed until 2 am.
Then it was on to a house party in Beverly Hills that wrapped up at 4:30 am.
All of this fun happened just 24 hours after Lindsay claimed a waitress punched her Thursday night/Friday morning as her marathon birthday celebration got underway.
Tough start back on the job for Eleonore, who we're guessing won't be driving Lindsay to court Tuesday morning for her DUI probation status hearing.