Lindsay Dodges SCRAM Violation In Court Hearing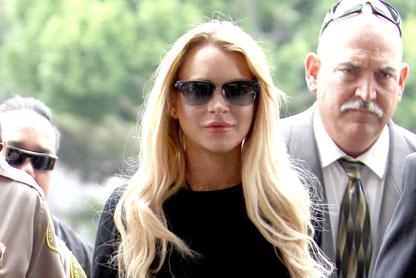 Lindsay Lohan dodged a potentially damaging piece of evidence being used against her when the judge in her probation violation case ruled that Lindsay's SCRAM violation would not be considered as part of the hearing.
RadarOnline.com is in the Beverly Hills courtroom and Judge Marsha Revel made the surprise ruling Tuesday, revealing that the SCRAM device showed Lindsay's blood alcohol level at slightly higher than .03 shortly before midnight on June 7.
Article continues below advertisement
Later it went to zero and Lindsay had a private urine test much later showing it at zero.
The judge decided not to consider any of that and only to go with the report from Lindsay's alcohol education classes.
The ruling could be a victory for Lindsay as it takes one more potentially damaging piece of evidence out of play. But the hearing was continuing.
On a side note, the judge turned down a request by Lindsay's father Michael to speak to her in chambers. However, the judge did accept a letter presented to the court on behalf on Michael. The letter specificly stated that Lindsay belongs in an in-patient rehab center as opposed to jail.
MORE ON:
Shawn Chapman Holley
The judge still denied Michael's request as Lindsay looked exasperated. Michael has written a letter to the court.
An official from the Right On Program was scheduled to be called to testify about Lindsay's alcohol education classes and her compliance.
Some drama unfolded as the court paged the official from the program, but could not find her right away.