Kings Of Leon Are All Pooped Out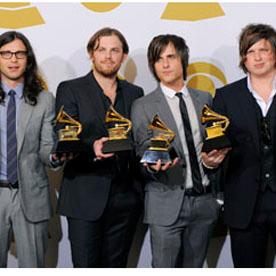 The Kings of Leon's concert in St Louis was for the birds! The Grammy-winning group walked off the stage after only three songs Friday night because they were being repeatedly pooped on by pigeons, RadarOnline.com has learned.
The band was bombarded by an infestation of birds lurking in the rafters of the Missouri city's Verizon Amphitheatre. The pesky pigeons began launching their aerial attack during the band's opening number, forcing the "Use Somebody" rockers to bail on the show.
Article continues below advertisement
"I was hit by pigeons on each of the first three songs," said bassist Jared Followill. "We had 20 songs on the set list. By the end of the show, I would have been covered from head to toe."
Kings Of Leon Are Big Winners At Grammy Awards
In an attempt to avoid disappointing fans, the Kings of Leon had decided to go on with the show even after the show openers returned from the stage covered in pigeon excrement.
"We couldn't believe what The Postelles and The Stills looked like after their sets," said Jared. "We didn't want to cancel the show, so we went for it. We tried to play. It was ridiculous."
A spokesman for the band, Andy Mendelsohn, spilled more of the dirty details.
"Jared was hit several times during the first two songs. On the third song, when he was hit in the cheek and some of it landed near his mouth, they couldn't deal any longer. It's not only disgusting—it's a toxic health hazard. They really tried to hang in there. We want to apologize to our fans in St. Louis and will come back as soon as we can."