Katie Holmes' Style: Glam Girl Or Grunge Granny?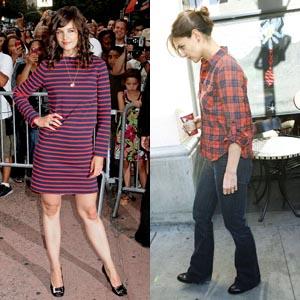 Has being married to a much older man aged Katie Holmes' sense of style?
While other stars her age are strutting down red carpets in Herve Leger bandage dresses and Preen cutout minis, Tom Cruise's leading lady is always covering up her body in unflattering, potato sack frocks. With a world of designer's dying to dress the A-list actress, why does The Extra Man star always choose Granny over Glam?
When Tom and Katie began their whirlwind romance, we had a slight moment of excitement. The gorgeous brunette was quickly exposed to the first hand glamour of Giorgio Armani, who had been dressing her haute hubby for years.
Article continues below advertisement
The Italian icon designed Katie's wedding gown, and we figured he would be in charge for her daily duds from that point on.
Katie even has her own collaborated clothing collection with stylist Jeanne Yang, though we rarely see her modeling the uber-expensive duds! Instead her daily wardrobe consists of oversized plaid shirts, wide leg jeans, baggy leggings (which she wears under oversized dresses!) and floorlength car coats, which drown her youthful figure.
When we saw Katie on Tom's arm at the National Movie Awards in London looking sassy in a striped summer dress from her Holmes & Yang collection, we were delightfully surprised to see her finally dressing her age, but the success was short feted. A few weeks later she hit the NYC premiere of her latest flick The Extra Man, opting for a striped Celine mini. Only problem?
She had to sport not-so-sexy buckled pumps with the youthful number!
Do you think Katie is a grunge granny or a glam girl? Check out the gallery in Style and let us know!