Jesse James "Is Doing A Good Job As A Father," Says Court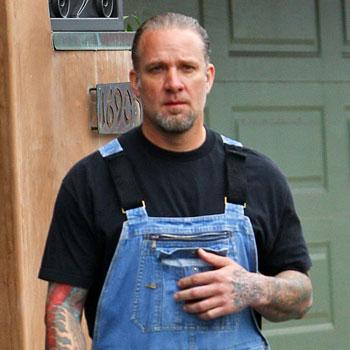 Jesse James won the first round in the bitter custody battle with ex-wife Janine Lindemulder on Monday.
Court appointed attorney, Loni Klein, told the Orange County court that she recommended that Sunny remains in her father's care. "Jesse James is doing a good job being a father to Sunny. Although both parents love Sunny, they do not trust one another. Janine has faced a tough road and has been getting therapy recently but still requires more treatment."
Article continues below advertisement
She went on to say, "Mr. James could do with better parenting tools and should attend parenting classes. But in my opinion, at the moment Sunny should remain in Mr. James' care."
The warring couple went before Commissioner Thomas Schulte at Orange County family court Monday.
In his opening statement Jesse James' lawyer, John Schilling, told the court that Lindemulder was a convicted felon, porn star and drug addict. He added that it would be in Sunny's best interest to move to Texas to be with Jesse and his extended family.
EXCLUSIVE: Jesse James' Sister Supporting Him In Bitter Custody Battle
Janine Lindermulder's lawyer, Richard Masson, blasted Jesse James for not obeying court orders and restricting Sunny to only eight out of 15 scheduled visits. He also claimed that James' move to Texas is motivated by wanting to be closer to Sandra Bullock.
John Schilling had claimed that during a recent visit to a water park, Janine had lost Sunny for over one hour and guests were sending e-mails concerned about the child.
Jesse and Janine married in 2002 and split in October 2003. Lindemulder later served time in a federal prison on income tax charges, and was sent to a half-way house after her release. She has wanted visitation with her daughter since leaving the half-way facility last month.
A motion by James to get a psychiatric evolution of Sunny was denied by the court.
Both Lindemulder and James are in court today as they try to secure custody of Sunny. The case continues.