Jesse James' Ex-Wife Had "Emotional And Belittling Conversation With Sandra Bullock," She Tells Court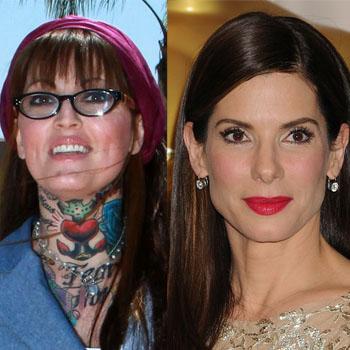 Oscar winner Sandra Bullock's name got dragged into the ongoing bitter custody battle between Jesse James and his ex-wife Janine Lindemulder on Monday as the feuding pair fell into a legal stalemate.
EXCLUSIVE VIDEO: Jesse James And Janine Lindemulder Talk To RadarOnline.com Outside Court
Lindemulder told the court that she had an emotional and belittling telephone conversation with Sandra Bullock while she was confined to a halfway house in Oregon. Distraught Lindemulder visibly shook as she spoke of the upsetting call, which came after James and Lindemulder's six-year-old daughter, Sunny, put Sandra on the phone to speak with her mom.
Article continues below advertisement
The rocky relationship between the Oscar winner and the former porn star was emphasized earlier in the day when Sunny's teacher testified that both Bullock and James made negative comments about Janine.
Alex Bon, a pre-kindergarten teacher of Sunny at Carden Academy in Huntington Beach, California, said: "Both Miss Bullock and Mr. James made derogatory comments. Sunny looked in shock."
Bon went on to reveal details of the relationship between Janine and her daughter. "Janine Lindemulder was very loving towards Sunny and her daughter was always running to her arms when she saw her," said Bon. Miss Bon also testified that staff at the school were instructed not to send Sunny's artwork to Lindemulder while she was in jail.
Whether James trails Bullock to Texas has been an ongoing issue in the case. Earlier the motorbike mogul testified that he was moving to Austin to escape the paparazzi and because his home was more secluded there. He said, "Sandy and I have never had any problems in Austin. Not such a media frenzy as in L.A. or Orange County."
James said he hoped The Blindside star would continue to play a role in his daughter's life, although he did admit that Sunny loved her biological mom.
Article continues below advertisement
During Lindemulder's cross examination, she claimed that James did not take her calls or reply to her e-mails to try and set up visits, and that her ex's actions had made her feel bad and she "just wants to be a mom to her daughter."
Under cross examination by Lindermulder's lawyer, Richard Masson, James denied that he tried to block visits with Sunny over the 4th of July holiday weekend and claimed he could not get access to the monitor to supervise the exchange handover.
Jesse James Speaks Out Against Ex-Wife In Custody War
Commissioner Thomas Schulte ordered the couple and their lawyers to come up with various scenarios as to what should happen regarding visitation should James move to Texas or Janine live in California or they both relocate. He ordered all parties back to court on Tuesday before making any decision.
The case continues.