Jesse James Accused Of Hiring Private Investigator To Frame Ex-Wife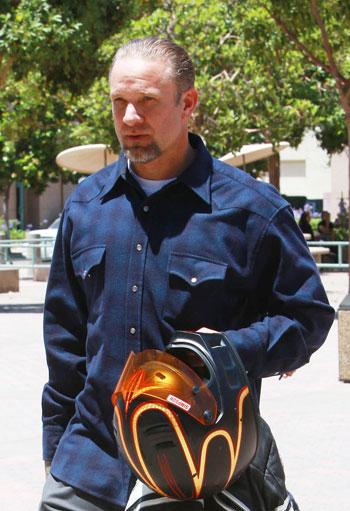 The bitter custody battle between Jesse James and Janine Lindemulder took a bizarre twist on Wednesday when the motorbike mogul was accused of trying to put his ex-wife behind bars for tax evasion through a private investigator he had hired.
Lindemulder's lawyer Richard Masson claimed that in 2006, James hired Oregon private investigator Brad Martin to spy on Lindemulder. Masson told the court that he had proof that Martin passed on information to special IRS agent Todd Anderson, which ultimately led to Lindemulder going to jail. He argued that James' actions showed how much he did not want Janine to co-parent Sunny.
Article continues below advertisement
James admitted that he hired Martin to find out where Lindemulder and six-year-old daughter, Sunny, were staying at the time, but he denied that he received any report on his ex-wife from the private investigator.
James' lawyer John Schilling said that Masson's claims had no relevance to the custody case because Lindemulder plead guilty to tax evasion, which had nothing to do with his client.
Commissioner Thomas Schulte agreed with Schilling, ruling that the allegation that James had hired Martin to trace Lindemulder in Oregon (and the claim that Martin had allegedly turned information about Janine into the IRS) was irrelevant to the case and not in the court's interest to pursue.
Earlier in the hearing, the court heard how James instructed Sunny not to tell her mom about Sandra Bullock adopting Louis Bardot last April because he didn't trust her to keep it secret.
He said, "I told Sunny not to tell Janine because I knew she would leak the information to the tabloids."
James also raised concern about Janine continuing to work in the porn industry and doing exotic dancing because it could end up with her going to jail and not paying taxes again.
Article continues below advertisement
Jesse James Speaks Out Against Ex-Wife In Custody War
He did concede during cross examination that Sunny was happy when she visited her mom, and that he would be willing to offer visits or Skype conferences between the pair if their daughter was permitted to move to Texas.
Later in Wednesday afternoon's proceedings, the tough biker teared up when he admitted he is still receiving therapy to cope with his personal childhood abuse.
The reality star, who spent a month in rehab in Arizona after his marriage to Oscar winner Sandra Bullock crumbled over womanizing, got emotional during the custody hearing.
While being cross-examined by Masson, James said, "I absolutely benefited from receiving therapy – I am continuing treatment now. I was a victim of child hood abuse and trauma.
"I was an alcoholic when I turned 14 up to 30, and celebrated ten years of sobriety in rehab."
James went on to say that he did not think ex-wife Lindemulder had benefited from such treatment
A ruling is expected by the end of the week.