How To Get Straight And Shiny Hair Like The Stars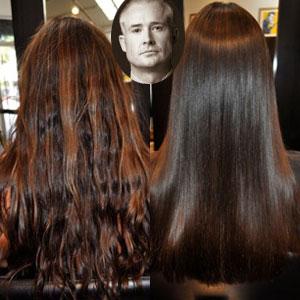 The Brazilian Blowout has been one of the most popular treatments in high-end salons over the past year. A short-term solution to rid hair of frizz and make it smooth and shiny, it is not surprising that celebs like Nicole Richie, Ashley Tisdale and Lindsay Lohan have all tried it out on their tresses. We sampled the "miracle" treatment earlier this year and although we loved the results (no hairdryer for months!), we had a very difficult time breathing in the "no harsh chemicals" fumes, while the treatment was being performed.
Article continues below advertisement
Sean James, stylist to the stars (Jamie Lee Curtis and Jaime Pressly are on his roster!) invited us over to the sexy Fred Segal Beauty Salon in Santa Monica, California, to try out the alternative Brazilian Keratin Treatment. The treatment process is similar to the Brazilian Blowout. Hair is washed and dried. Solution is equally distributed throughout hair. Hair is blown out with treatment in. Hair is straightened with a flat iron.
Get Some Va Va Voom For Your Hair
After the 3 days were up, we were super excited to hit the shower and lather up to see the results. Without picking up a hair drier, our normally tangly and frizzy mane was smooth and wavy in true summer style. When we did decide we wanted a slicker look, it took a fraction of the time to get stick straight hair with the help of a flat iron.
If you appreciate luxurious pampering in a truly zen setting, we suggest you check out the salon at the celeb-filled shopping center, because you will not be disappointed!