Rockin' The Garnier Malibu Beach House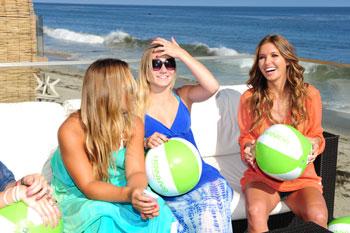 The weather was perfect at the Garnier Malibu Beach House Thursday afternoon. Garnier launched a variety of hair, skin, and men products perfect for summer with beach babe Audrina Patridge and catered the shin-dig with yummy food from Food Network's Manouschka Guerrier of the hit show Private Chefs of Beverly Hills. The intimate setting was accented with the sounds of thunderous waves crashing against the shore.
Article continues below advertisement
Audrina mingled around the venue conversing with other attendees in a coral beach cover-up and denim shorts. The reality star beauty gave us the scoop on her favorite hair product to use for summer.
"I really love Garnier's Instant Color Sealer Leave-In for summer," said Patridge. "Since I'm always at the beach or in the sun, it really helps keep my hair soft and protects my color."
The Instant Color Sealer Leave-In is a great accessory for any beauty bag. This product claims to hydrate locks while maintaining color perfection. The new formula is made with Grape Seed Oil and Acai Berry Anti Oxidant which is said to deeply nourish, maintain color, and protect hair follicles from both UVA and UVB rays. We scored some product, which is promptly going in our beach bag!