Grand Slam Hits, A La Mode Misses: Best And Worst Tuesday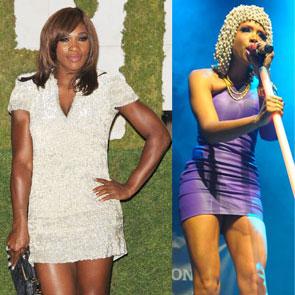 Serena Williams hit a red carpet grand slam over the weekend, stepping out to the Wimbledon Gala Dinner in London in a shimmery Burberry mini dress from the Spring 2010 collection. The tennis champ paired the figure-flattering cap-sleeved mini with platform sandals, which elongated her toned and taut legs. Congrats to Serena for winning the coveted championship, and for scoring the RadarOnline.com Best Look of the Day!
Article continues below advertisement
Kelis, on the other hand, scored herself two Worst looks over the weekend. First, the sassy singer hit the stage in London in truly funky fashion. Though we enjoyed her patriotic manicure and pedicure, we couldn't get past her ace-bandage "boots" and not-so-haute headgear. A few days later, sans wig, Kelis was spotted at the airport, but wasn't flying so high in our fashion book!
Rihanna tried a new look, while performing onstage in Canada, rocking an inflatable bra (yes, really!) with matching sleeves, taking the shoulder pad look a little too far! Eva Longoria Parker, Heidi Klum and Gwen Stefani all sported casually chic looks this holiday weekend, while Jersey girl JWoWW brought her "Filthy Couture" to Las Vegas.
What Posh fashion designer toned down her sophisticated style in a delightful way? Check out the gallery in Style to find out!