Good Cowgirl Gone Bad, True Blue Babe Biel: Best And Worst Friday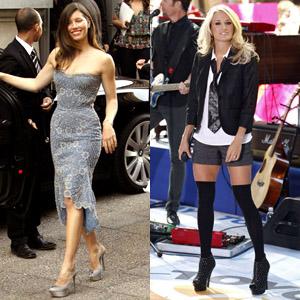 Carrie Underwood may be America's newlywed Sweetheart, but the Cowboy Cassanova singer looked a bit more naughty than nice when she hit the stage of The Today Show in NYC on Friday! Wearing a pair of cuffed shorts with a white, tailored blouse and a cropped blazer, the blonde beauty sported a men's tie around her neck (new hubby Mike Fisher's perhaps?) and thigh-high tights with open-toed, grommet-embellished booties. The result? Vintage Britney meets SNL's Mary Katherine Gallagher!
Article continues below advertisement
Jessica Biel dazzled in truly glam fashion in Berlin. On Thursday night The A-Team beauty rocked a blue beaded Versace strapless to the German premiere of her summer blockbuster film, perfectly pairing it with Sergio Rossi platforms. On Friday, she continued her style streak, rocking a mellow yellow suit over a simply striped blouse.
Kellan Lutz was sensationally suited for a Tag Heuer bash in Malibu, as was Mark Walhberg, receiving his star on the Hollywood Walk of Fame. Kim showed off her Kardashian curves in a sassily patterned mini and towering platforms, while enjoying a night out in Hollywood with her newly married gal pal LaLa Vasquez and Jada Pinkett-Smith looked white hot in a gorgeously draped mini for an appearance on Jimmy Kimmel Live.
What pregnant babe showed off her baby bump in a perfect LBD? Check out the gallery in Style to find out.