From Gaga To Miley: Sassiest And Wackiest Onstage Ensembles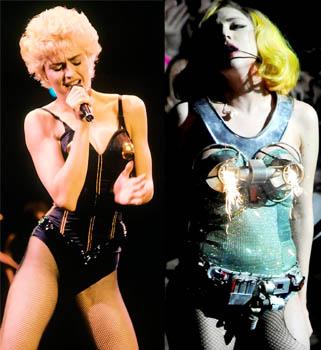 When it comes to our favorite performers, it seems they keep upping the ante when it comes to their onstage attire antics! From Miley Cyrus' too-sexy-for-her-age S&M getup, Lady Gaga's electric cones and to Rihanna's inflatable bra and sleeves, you never know what you are going to see when you go to one of their blockbuster shows. RadarOnline.com picked out some of the sassiest and wackiest not-to-be-missed costumes, which have graced the stage throughout the years.
Article continues below advertisement
Whether her body is doused in blood, an entire body wig or nearly nothing at all, Lady Gaga has definitely established herself as one of the most eccentric onstage acts. With most of her costumes designed by high fashion priest Giorgio Armani, she has surely left her mark in the wardrobe hall of fame.
Miley Cyrus grabbed headlines recently for her good girl-gone-bad style transformation. The Disney star traded in her cutsie Hannah Montana wardrobe, which consisted of jeans, tops and dresses for latex and leather bodysuits, which barely cover up her bum! At only 16-years-old, the smiley superstar is the youngest singer to score a slot on this list.
Steal Katy Perry's California Gurls Style
Katy Perry is undeniably sassy, but what we love about this bombshell California Gurl is that she manages to maintain her sex kitten status without going over the top. Whether clad in custom-print Syren latex dresses or bedazzled hot pants and bra tops, Katy always looks tasteful in her creative costumes.
From the Material Girl to The Duchess, and even Turning Back Time to take a look at Cher's tribal threads, see all the sassiest and wackiest onstage ensembles by checking out the gallery in Style!