Exclusive
EXCLUSIVE INTERVIEW: 'We'll Wait For Lindsay Lohan' Says Film Producer On Next Project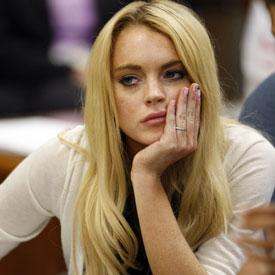 Although her freedom may be taken away for the next six months, Lindsay Lohan is going to have a lot to look forward to when she gets out of jail and rehab.
It'll be back to work for the struggling actress, who's in negotiations to play a role in The Dry Gulch Kid, and the producer tells RadarOnline.com exclusively that he's behind her all the way.
"We want her and we will work a deal with her," said producer Kerry Wallum. "We'll wait 'til she gets out and we'll go from there.
Article continues below advertisement
"A lot of people can think whatever they want, she is not a lost cause and she's a good actress. They can do all the talking and everything they want to say, but we'll wait on her because we believe in her," said Wallum, who is shooting in Austin, adding that Lindsay had a good reputation on the Texas set of Machete after filming there a few months ago.
According to the movie database website IMDB, the film is in development and an "adventure comedy that takes a fantastic journey along a winding trail of daring adventures and near escapes."
According to the website, the movie stars Matthew McConaughey, Woody Harrelson, Johnny Knoxville and Willie Nelson.
Wallum joked that the premise of the film is a perfect match for those involved.
"(Lindsay) plays a lieutenant with an attitude and it's a very good role. It's about a pond that if you drink out of it, it makes you hallucinate. It's right up all of our alleys," he laughed.
Wallum said production was scheduled to start in a couple months, but now it'll be pushed back to accommodate Lindsay's sentence.
"I don't believe that she should have went to jail for 90 days. They probably should have helped her a little more than going to jail. I don't think that helps a whole lot myself," Wallum said.
Wallum said he does not see her as a liability on the film.
"Not any more of a liability than all of us that are producing it," he said.
"And everybody should be (behind her.) We all have our problems. We just want to make sure that we all back her and we're behind her and wish her the best of luck."