EXCLUSIVE VIDEO: Will Ferrel, Liv Tyler, Eva Mendes & More Hollywood Stars Entertain Comic Con Fans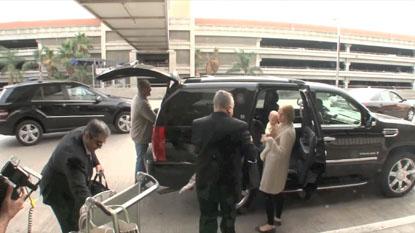 Hollywood stars continued to dominate Comic Con on Friday and RadarOnline.com was there in San Diego to capture the thousands of fans go crazy for their favorite actors.
Will Ferrell is starring in two blockbuster movies that were promoted at Comic Con, and his trademark humor kept fans rolling in the aisles with laughter. "It's just sad when you're laughing at yourself," said Will on the panel for The Other Guy. He appeared on Thursday with Tina Fey and Jonah Hill in full costume for his character in the animated movie Megamind.
Article continues below advertisement
His co-star Eva Mendes bowed down to the brilliance of Will, telling the audience that "It was my dream come true," to work with the movie great. "I too quote his movies on a daily basis," she gushed.
"Put me in a comedy with these guys, it was a dream come true," said his cop partner in The Other Guy Mark Whalberg.
On the panel for the dark comedy Super, starring Rainn Wilson as a home-made super hero, his on-screen wife Liv Tyler spoke about performing her own crazy stunt. "They're testing out a new stash of heroin on me and they go to shoot up my foot and for some ridiculous reason I really wanted them to shoot my foot up!"
Check out the video for RadarOnline.com's cool coverage of Comic Con 2010.