EXCLUSIVE VIDEO INTERVIEWS: Kellan Lutz Shines At VH1's Do Something Awards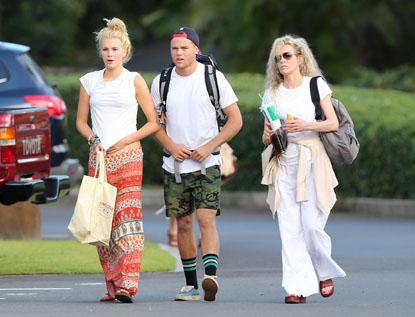 VH1's 2010 Do Something Awards paid tribute to Hollywood's most generous philanthropists at the Palladium in Hollywood Monday night, and RadarOnline.com caught up with some of the bright-eyed do-gooders on the red carpet to dish on the evening's event.
Twilight hunk Kellan Lutz, showing he's as beautiful on the inside as he is on the outside, told us: "We're all human, we're on this earth to make it better, and for me, I've had a lot of people helping me out, so it's like paying it forward for me, now that I'm in a position to do so... it's just nice to do that."
Article continues below advertisement
Disney diva Demi Lovato told RadarOnline.com reporter Viviana Vigil that "the most rewarding volunteer experience I've had is meeting people that I've inspired," adding that she's a "big advocate for bullying prevention."
British pop singer Natasha Bedingfield, who performed at the event, said her mother has been a key role model when it comes to doing something.
"She has a charity called Global Angels and its all about helping children," the Unwritten singer told us.
While being led down the red carpet by her publicist, ex-American Idol judge Paula Abdul said, "I'm thrilled to be here tonight because I think it's amazing what these young people are doing."
The Opposites Attract singer said the causes she's put the most time and effort toward include Pediatric AIDS and the Make-A-Wish Foundation.
We asked the Big Bang Theory's Simon Helberg the one celebrity he wishes would do something for a good cause.
Article continues below advertisement
"Mel Gibson -- though he's doing a lot actually," he said, referencing our world exclusive tapes of The Passion director's outbursts on his ex-girlfriend. "I wonder what he's doing right now, probably shirtless and shooting lightning bolts out of his hands."
Alyssa Milano showed who's the boss in 140 characters or less, taking home the Twitter Award for her tireless efforts raising money for her favorite charities using the micro-blogging Web site as a vehicle.
The Do Something Awards, hosted by Glee's Jane Lynch, aired Monday night on VH1.