EXCLUSIVE PHOTOS: Lindsay Lohan Jokes About SCRAM Bracelet In Spoof Comedy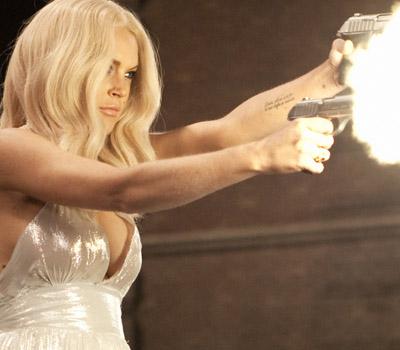 Just a month before starting her high profile jail sentence, Lindsay Lohan poked fun at her SCRAM bracelet while a filming spoof comedy movie dressed as her icon and legendary Hollywood drug addict Marilyn Monroe, and RadarOnline.com has exclusive details.
In the over-top-sketch comedy special Underground Comedy 2010, Lohan poses flirtatiously in a white flair dress and high heels with blonde bombshell hair on an air vent that is a take off of Monroe's famous scene in The Seven Year Itch. The one strikingly different aspect of Lohan's look is the alcohol monitoring bracelet strapped to her ankle.
Article continues below advertisement
EXCLUSIVE: Lindsay Lohan To Check Into Morningside Recovery
RadarOnline.com has exclusively learned that during the film, one of the characters tells Lindsay, "You look like Marilyn Monroe," to which the witty star ad-libbed giggling, "Marilyn never had to wear a SCRAM bracelet!"
Vince Offer, a.k.a, ShamWow guy Vince Shlomi, wrote and directed the hilarious comedy and signed Lohan on to star after meeting her through a mutual friend at a party during the Cannes film festival.
He was delighted to write her a part where she plays herself acting out the character of Marilyn, and let her vent out her anger on the paparazzi by shooting a scene where she guns down a row of pushy photographers in a deadly showdown.
EXCLUSIVE: Lindsay Lohan To Check Into Morningside Recovery
Production of the flick was completed just days before Lohan began her 90-day sentence. Despite her impending incarceration and her SCRAM bracelet fashion accessory, Offer says she was in good spirits and he was impressed by her sense of humor.
Lohan's high-profile co-stars include Michael Clark Duncan, Bobby Lee and DWTS' Joanna Krupa, it is slated for release this Fall.