Exclusive
EXCLUSIVE: Oksana Diagnosed With Concussion After Fight With Mel Gibson; Doctor Key Witness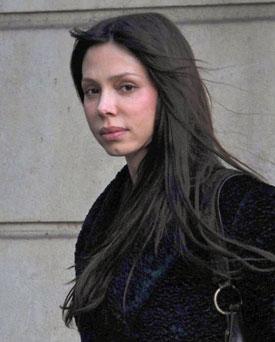 Oksana Grigorieva was diagnosed with a concussion two days after she fought with Mel Gibson, RadarOnline.com is reporting exclusively.
The diagnosis can be a crucial part of the criminal and civil investigations into Gibson's behavior, providing documentation for Oksana's charges and turning her doctor into an important witness.
Oksana's Broken Teeth and The Abrasion on Baby Lucia's Face
Oksana sought treatment from her dentist on January 7 and her doctor on January 8 this year. As RadarOnline.com was first to report, Oksana has told authorities Mel punched her in the mouth and the side of the head while she held their infant daughter Lucia.
Article continues below advertisement
The Russian-born musician's two upper front teeth were damaged, with the veneer snapped off of one and cracked on another. RadarOnline.com exclusively published a photo of Oksana's damaged mouth.
Now we've learned that she visited Dr. Arthur Gordon on January 8 and was diagnosed with a concussion.
"Oksana's doctor diagnosed her with a concussion. It was a result of the punches to her face," a source with knowledge of the situation told RadarOnline.com.
"She stayed in bed for weeks following the incident because she was suffering from bad headaches and was dizzy."
The doctor could be a key witness in the investigation of the events of January 6. It provides Oksana with independent proof that she was injured, adding much weight to her charge that Mel punched her and turning the case away from a he-said, she-said battle.
In explosive audio obtained and released exclusively by RadarOnline.com, Oksana accuses him of hitting her and he says: "You f**king deserved it."
Article continues below advertisement
Oksana also says that their baby suffered a tiny mark to her face as a result of Mel's violence and that she took a photograph of the injury.
EXCLUSIVE PHOTO of Oksana After She Says Mel Punched Her
RadarOnline.com obtained a copy of the photo of baby's injury and published it on Wednesday. It shows what appears to be a bruise on the baby's chin.
Mel claimed that Oksana shook the baby – an allegation she strongly denies.
MORE ON:
Oksana Grigorieva
Mel has denied hitting Oksana.
The Department of Children, Family & Services is investigating the situation. Mel is also being investigated for domestic violence by the L.A. County Sheriff's Department. His representatives have claimed that Oksana tried to extort money from him by denying visitation to Lucia. The extortion charge is also apparently under investigation.
But sources close to Oksana tell a far different story than Mel – and it appears that Oksana has key witnesses to verify many parts of her story.
Article continues below advertisement
"Oksana wanted to go to the hospital immediately after Mel hit her," the source said. "But she had no one to watch the children so she waited until the next day."
But her son Sascha was in the room on January 6 when Mel allegedly punched her and Oksana called her mother as she left the house. Her dentist also can testify about the damage to her mouth and now she also has a doctor and a diagnosis of a concussion.
Oksana's rep could not be reached for comment.