EXCLUSIVE: New Jersey Judge and Filmmaker Resigns Over Films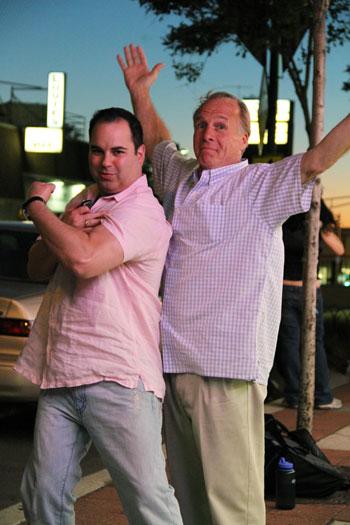 New Jersey Judge Kenneth Del Vecchio has resigned from his judicial position because he believes the government is trying to take away his right to free speech. In an exclusive interview, Del Vecchio tells Radaronline.com, "As a Judge, I was sworn to uphold the constitution. But here, the government wanted to censor me - a sitting Judge! So I left the bench to protect all of our First Amendment rights."
Article continues below advertisement
EXCLUSIVE DOCUMENT: Read the Letter from the Supreme Court Committee
In a letter from the Supreme Court of New Jersey Advisory Committee on Extrajudicial Activities obtained by Radaronline.com, the Committee advises Del Vecchio "he should not be interviewed, promote and participate in the press or publicity that may accompany any of his films".
Although Del Vecchio says no one from the Committee has ever expressly stated to him that the political nature of his films was the reason behind the negative attention, the coincidence is compelling, to say the least.
Del Vecchio says since he took the bench, everyone knew he was a filmmaker and that he had a long history promoting his own movies in the press. He has made more than a dozen films, starring several Academy Award and Emmy winners and nominees and believes it's the content in his movies that have him now off the bench.
He goes on to tell Radaronline.com, "It seems that the New Jersey Supreme Court doesn't like the content of these films, specifically the pro gay marriage movie 'An Affirmative Act' and the satire of Barack Obama in 'O.B.A.M. NUDE.' The New Jersey Supreme Court refused to legalize gay marriage and here I've made a movie about gay marriage."
Article continues below advertisement
Del Vecchio, a bestselling author and filmmaker, is more than outraged that he is disallowed to promote his works because of his judicial seat. In a press release he says, "This opinion is in direct contradiction to the United States Supreme Court, where Justices have gone on national media tours, promoting their books. In fact, Justice Sotomayor and her publisher announced the upcoming release of her book, a work that chronicles her rise to the United States Supreme Court."
Del Vecchio says had he decided to remain on the bench and appeal the opinion, he would have no free speech rights while waiting for the appeal hearings to conclude.
"What we have in a nutshell is you can't have a job if you want to have free speech. That's frightening."