Exclusive
EXCLUSIVE: Neighbor Calls Alleged Spy Couple "Normal" and "Low-key"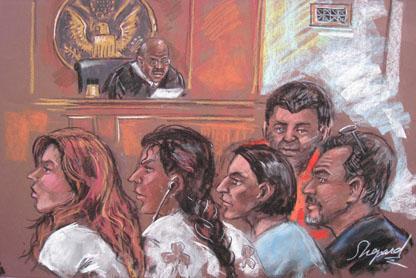 According to a neighbor in their New York suburban enclave, alleged spies Juan Lazaro and Vicky Palaez were "low-key" and "normal."
"They moved in around 1995. The guy said he was a professor and I don't know what she did," the neighbor told RadarOnline.com exclusively. According to reports, prosecutors claim the couple were one of eleven suspected covert agents sending information to the Russian government.
Article continues below advertisement
"Everyone was in shock, no one expected it. They were very cordial when we saw them outside. No one knew what was going when the news broke."
The Homes of the Alleged Russian Spies
Despite the alleged double life, Lazaro and Palaez seemed to live a daily average existence. "They were normal, low-key people," the neighbor added. "He drove an old school Mitsubishi Montero, the thing must had 200,000 miles on it." The neighbor also mentioned that Juan would sometimes meditate in the vacant lot next to the family's home.
Palaez worked as a columnist for a Spanish-language newspaper and Lazaro was a photographer. The couple's children lived with them in their Westchester, New York, home.
"One kid is a musical prodigy, there were two kids at the house and the older one was from a previous marriage," the neighbor added. "Palaez and Lazaro didn't have accents." The neighbor described the area as "upper-middle working class" and a "family friendly" place to live.
"They really seemed like normal people- a little kooky, but normal. The kids were very nice."