Exclusive
EXCLUSIVE: Michael Lohan's Ex-Fiancee Files Restraining Order; He Threatens To Release Audio Tapes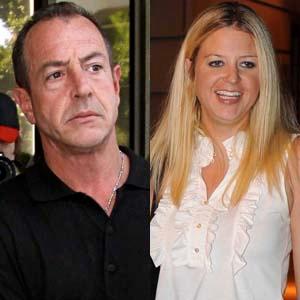 Michael Lohan's ex-fiancée has sought a restraining order against him after the alleged brutal showdown at their Southampton home on Monday, RadarOnline.com has confirmed exclusively.
Kate Major, former magazine reporter and one-time Jon Gosselin gal pal, filed for an order of protection against Lindsay Lohan's father after she told police he shoved her and kicked her in the face during an argument.
Article continues below advertisement
Lindsay Lohan -- See The New Mug Shot
The order, which was granted, prevents Lohan from contacting his one-time lover or going anywhere near her.
He has not yet been served the papers relating to the order because he is in Los Angeles, attempting to visit his estranged daughter, who has said she does not want to see him.
Major confirmed to RadarOnline.com that she filed a temporary restraining order at a New York courthouse on Wednesday morning.
But she did not want to elaborate on more details.
Major has claimed she has photographic evidence and hospital records supporting her version of events after the alleged brawl, although Lohan has insisted the confrontation was never physical.
Facing yet more legal woes, Lohan turned on Major and threatened retribution against his ex-fiancée the only was he knows how — with audio tapes.
The Lohan patriarch said he planned to release recordings detailing Major's "legal and personal issues".
Article continues below advertisement
"Because of Kate's behavior and false claims, I am going to release a statement and only the first of many pictures of Kate (obliterated) as well as the first of multiple recordings," Lohan told RadarOnline.com.
As their romance hits the skids, sources close to Major told RadarOnline.com the couple's wedding, expected to take place in the fall in New York, is officially over.
"Kate voluntarily returned the engagement ring to Michael before he left for L.A. and there are absolutely no plans for a wedding," said one friend.
Earlier on Wednesday, Lohan declared to RadarOnline.com: "Why wouldn't it still be on?"
In the wake of the bitter split, the pair are trading a flurry of accusations.
Lohan declared Major, in a a fit of jealous rage, accused him of checking into a Los Angeles hotel with mystery woman — a claim Lohan has denied.
On the other hand, Major's camp is suggesting Lohan, a sobriety campaigner and the chief critic of Lindsay's battles with booze and drugs, has fallen of the wagon.
"He tried to hide the drinking," said one of Major's pals.
Lohan also suggested Major had drained their bank account of all of his funds. She, too, has rejected that allegation.