Exclusive
EXCLUSIVE: Michael Lohan Thinks The Wedding Is Still On -- But Kate Major Is Terrified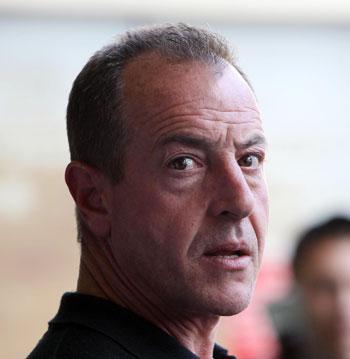 Michael Lohan may be accused of physically abusing his fiancée Kate Major but he thinks their wedding is still on. Meanwhile, Kate has gone to the police and a friend told RadarOnline.com that the former magazine reporter is scared to death of Lohan.
The unlikely Lohan-Major romance imploded Wednesday in the only way possible– a controversial, headline-making storm of controversy.
Lohan is accused of physically abusing Major, who is said to have photos of her injuries. But Michael told RadarOnline.com: "There can't be any photos because nothing like that happened."
Article continues below advertisement
Major exclusively released the following statement to RadarOnline.com, "The reason I am NOT speaking is because the truth will come out. Michael has always threatened to try to ruin me in the press. It's sad he can't keep his mouth shut and stop making up lies. Consider the source. I just need privacy at this time."
Lohan, however, remains defiant. "Look, I really hope that this isn't going to turn into another Erin Lohan's former fiancé situation because I don't want to have to talk about the things that Kate does," Michael told RadarOnline.com. "I just found out she drained one of our bank accounts without telling me."
And when asked if the wedding, scheduled for the end of this year in New York is still on, Michael responded: "I see no reason why the wedding wouldn't still be on."
EXCLUSIVE VIDEO & PHOTOS: Lindsay Emerges From Hiding - To Shop
Kate's pals, however, say she's terrified of Michael. They claim she was treated at a hospital after he pushed her over a chair and kicked her in the face. They also say he's threatened her previously.
Article continues below advertisement
Lohan, who flew to LA on Tuesday, one day after the alleged incident, admits that he and Major argued over two of the cast members joining his upcoming reality show Celebrity House but that when he left to come to LA, "Kate was in the house and fine."
Lindsay Lohan -- See The New Mug Shot
He says things heated up Wednesday night when Lohan says Kate heard a report that he checked into his LA hotel with another woman. "She called me (and was) crazy," Lohan told RadarOnline.com. "She said I was photographed checking into the hotel with this woman and it's just not true. The hotel verified I was in my room alone all night."
But Major's friends say that Michael has threatened her before and her injuries are real. "I've seen her injuries and they're real," one pal told RadarOnline.com. "I've been in their presence when they fight and he's threatened Kate's life on more than one occasion."
The friends also say Lohan and Major did not fight over who was joining the proposed reality show despite Michael's assertion the argument was over Rachel Uchitel.
"Rachel Uchitel has absolutely nothing to do with it! The show isn't even going to happen because they can't find anyone to finance it," Kate's pal told RadarOnline.com.