Exclusive
EXCLUSIVE: Mel Gibson's Crazy Rants Are Evidence Of A "White-Out Rage," Says Dr Drew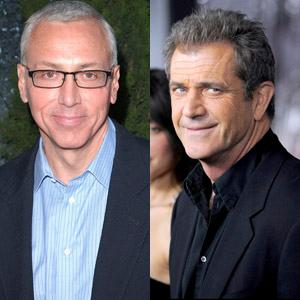 Mel Gibson's explosive racist rants and vicious threats to ex-girlfriend and baby mama Oksana Grigorieva clearly indicate that he is out of control, and in an exclusive new interview with RadarOnline.com, VH1's Celebrity Rehab expert Dr. Drew Pinsky says the Mad Max star could even have spiraled into a "white-out rage."
"White-out rages are when a person flies into a rage and disassociates from the situation," Pinsky tells RadarOnline.com. "The person essentially has a blackout and has no recollection of what was said or done while in that state. These blackouts are very, very common with alcoholics."
Article continues below advertisement
Mel's panting and heaving breathing is one of the most disturbing elements of the audiotapes that RadarOnline.com exclusively obtained, and is strong evidence in Dr Drew's diagnosis. "Mel's breathing could indicate that he is experiencing a white-out rage."
In an appearance on CNN's Larry King Live on Tuesday, Dr. Drew said that Gibson could even be bipolar.
"The intensity of this really suggests maybe a bipolar kind of hypomania," he reveals, and goes on to say that it is easily treated and the fact that Mel hasn't sought treatment "is sad."
"These are progressive conditions we're talking about so it's not surprising that we're seeing greater intensity," he said, and warns that more outrageous acts could be in 54-year-old Mel's future. "These progress particularly in men his age."
In a bombshell audio tape released by RadarOnline.com on Wednesday, Gibson explodes in a vicious tirade, demanding sex from Oksana and then threatening to burn down the house. The Braveheart star heaps emotional abuse on the mother of his eight-month-old daughter, Lucia, and grows increasingly out of control, while at times struggling to catch his breath.
MORE ON:
Celebrity Justice
Article continues below advertisement
Despite his theories, Dr. Drew admits the deep-rooted cause of the Mel's repeated breakdowns is still a mystery. "No one knows what is going on with Mel," explained the board-certified doctor in the exclusive interview with RadarOnline.com.
"There is absolutely no excuse for the tirade he has gone on. There is a history of alcoholism, and if he is not actively engaged he could be using again."
Pinsky hopes the Oscar winning director/actor seeks professional help for his debilitating condition before it's too late. "This is clearly a person that needs help," he told RadarOnline.com.