Exclusive
EXCLUSIVE: Mel Gibson Offered Oksana Grigorieva $20 Million Peace Deal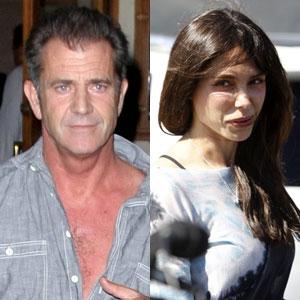 Article continues below advertisement
"Mel wanted Oksana to sign an agreement that would have meant Lucia spends 80 per cent of her time with her mother and the remaining 20 per cent with her father," said a source, familiar with the case.
"Over time, it could have increased to 50-50.
WORLD EXCLUSIVE AUDIO: Mel Gibson's Explosive Racist Rant -- Listen To It Here
"Mel was offering a deal that would have landed Oksana almost $20 million over her lifetime, but despite the inducement, she couldn't bring herself to sign the final agreement.
"Oksana thought that Lucia spending even 20 per cent of her time with Mel was too much -- and after the incident on January 6, she became convinced Mel was not fit to be alone with her."
As RadarOnline.com revealed, Gibson has admitted punching Oksana while she held their daughter in an incident at his Malibu mansion on January 6, because she "f**king deserved it."
The confession was caught on 30 minutes of explosive audio recordings that Oksana made because she feared for her life.
Article continues below advertisement
As RadarOnline.com revealed, Oksana signed a cohabitation agreement while pregnant last year in a move that locked her out of ever claiming a slice of Gibson's billion-dollar fortune.
But when the pair's relationship imploded, Mel moved to compensate Oksana above and beyond the co-habitation agreement, in addition to providing for her to financially care for Lucia.
We're told Oksana initially agreed to the $20 million deal.
However, the Russian musician has since claimed she signed the agreement "under duress," according to a source with knowledge of the case.
Last month, as she prepared to launch her fight against Gibson, Oksana replaced the lawyer who masterminded the pact with the actor's lawyers and installed her current legal eagle, Marci Levine.
Yet despite Oksana's claim that she was forced to sign the agreement against her will, the judge overseeing their custody fight upheld the original 80-20 parenting plan, said the source.
EXCLUSIVE PHOTOS: See The First Photos of Mel and Oksana In a Passionate Embrace On The Beach
"Oksana is powerless to stop Mel from having visitation rights to Lucia," added the insider.
Sources close to Grigorieva cite the co-habitation agreement and her reluctance to agree to the $20 million loot as proof she is not interested in Gibson's fortune or tried to extort him.
Protested one source, "Oksana gave up her potential financial future in order to secure her baby daughter's safety."