Exclusive
EXCLUSIVE: Mel Gibson Back To Work, Day After Racist Rant Exposed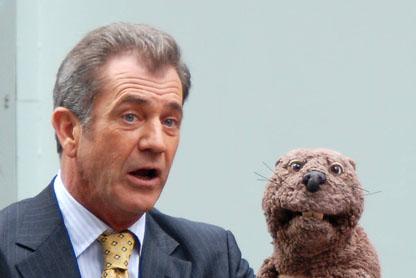 While Hollywood looks on in horror and disgust, many are questioning whether Mel Gibson will ever get another movie gig after RadarOnline.com exposed the details of a racist rant against ex-gal pal Oksana Grigorieva.
But not deterred by the audio tape controversy, the Oscar winner has returned to work -- the day after the explosive tape broke, in which Mel spews a jaw-dropping rant of profanities at his baby mama.
Article continues below advertisement
And his boss on set of The Beaver is another alleged Hollywood hot head Jodie Foster, who is directing the film.
One person who watched Mel on set in Brooklyn, New York, Friday told RadarOnline.com, "he's running around with a stupid puppet on his hand."
In the film, Gibson plays Walter Black, a guy who "walks around with a puppet of a beaver on his hand and treats it like a living creature," according to IMDB.
New York police provided a heavy presence to the production crew, we're told.
"I have lived in New York for four years and never seen so many cops," said the source.
It's a far cry from the man heard screaming racist, demeaning, hate-filled obscenities at Grigorieva.
"You look like a f***ing pig in heat, and if you get raped by a pack of n***ers, it will be your fault," Gibson screamed at Grigorieva during the tape heard by RadarOnline.com.
Gibson is also heard calling Grigorieva a "whore" while a baby, most likely eight-month-old, Lucia, is screaming in the background.
"I am going to come and burn the f**king house down… but you will blow me first," he says in the shocking tape.