Exclusive
EXCLUSIVE: Mayor Calls Chelsea Clinton's Wedding "Worst Kept Secret Ever"; Has Yet To Be Contacted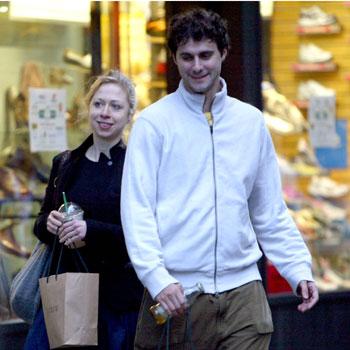 The mayor of Rhinebeck, New York, the rumored location of Chelsea Clinton's upcoming wedding to Marc Mezvinsky, calls the nuptials the "worst kept secret ever", and told RadarOnline.com that he has yet to be contacted about any arrangements despite part of the city council's funds being funneled towards security measures for the big day.
"Look, if it's not happening then a whole lot of people have gone to a lot of trouble for nothing," Mayor Jim Reardon exclusively told RadarOnline.com. Rhinebeck has a surrounding population of only 3,500. I'm not surprised that nobody has actually contacted me about the wedding because security is very sensitive with so many high profile people on the guest list. But we have 14 part-time police officers who are all available to take part and my colleagues at the New York State Police Department are also actively involved in preparations."
Article continues below advertisement
While the locals "are excited about all the attention" the wedding has placed on the town 100 miles north of Manhattan, Mayor Reardon says the Clinton family will still be able to enjoy some level of discretion. "It is a private function and I'm sure Chelsea wishes there was not all this attention....The actual Astor estate is a beautiful estate in a perfect setting which is three miles North West of Rhinebeck. It is a sprawling 50 acres estate which will afford the wedding party a lot of privacy on their big day."
The wedding is expected to set back Hillary and Bill Clinton somewhere in the region of $3 to $5 million dollars but some locals are not happy that $2,500 of council funds has been set aside for the event despite the budget currently $502,806 in the red.
The money will be used for a police protection line to provide community coverage before, during, and after the wedding.
When the funding was approved at a recent Town Board meeting some councilors and local residents were not happy, according to a local newspaper called The Daily Freeman. The meeting, which was attended by about 30 people, burst into laughter when Councilwoman Gina Fox joked that the money was for "nothing happening" over the weekend.
Article continues below advertisement
Resident Deirdre Fisher voiced her displeasure saying: "Let the father (former U.S. President Bill Clinton) of the bride pay for it."
But Mayor Reardon defended the additional money: "There has been a lot of ill-informed reporting about those costs because there is an overtime provision that will absorb them. The wedding is bringing a lot of money into the community as all the hotels are fully booked plus it is giving Rhinebeck international exposure which we are obviously very grateful for."
Chelsea, 30, is slated to marry her childhood pal, Goldman Sachs investment banker Mezvinsky, 32, this Saturday after a five-year courtship. Mezvinsky also has a political pedigree: his mother Marjorie and father Edward both served in Congress.