Exclusive
EXCLUSIVE: Lindsay Lohan Wants New Lawyer To Represent Her For Free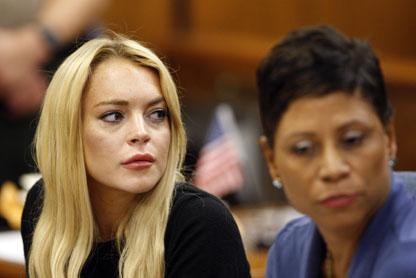 It's one thing to get free swag when you're a celebrity - but a free lawyer?
Troubled Lindsay Lohan - whose attorney Shawn Chapman Holley abruptly quit last week - wants her next attorney to represent her for free, RadarOnline.com has exclusively learned.
A source close to the situation tells us, "Lindsay wants her new attorney to represent her for free. Lindsay doesn't think she should pay for a new lawyer, period. Lindsay has gone through two attorneys already."
Article continues below advertisement
The insider tells us while the Mean Girls star, 24, has met with famed L.A. attorney Robert Shapiro - whose past clients have included O.J. Simpson, Christian Brando and the Kardashians - "Robert hasn't decided if he is going to take the case or not."
EXCLUSIVE VIDEO & PHOTOS: Lindsay Emerges From Hiding - To Shop
Adding to Lohan's legal woes, the starlet doesn't have the unlimited funds she used to. Our source says, "The type of lawyers Lindsay is used to having are expensive because they are simply the best at what they do. Lindsay just doesn't have the money that she used to pay for the best. The lawyers she is interviewing wouldn't represent her for free, period."
When she does get a new attorney, there's no guarantee he or she will take the case at no charge.
Last week, L.A. Superior Court Judge Marsha Revel sentenced Lohan to 90 days in jail, followed by 90-days in rehab for violating conditions of her probation related to her 2007 DUI conviction.
Judge Revel has ordered Lohan to surrender to authorities by July 20th to begin serving her sentence. Lohan is expected to appeal.