Exclusive
EXCLUSIVE: Lindsay Lohan: Amphetamines & Dilaudid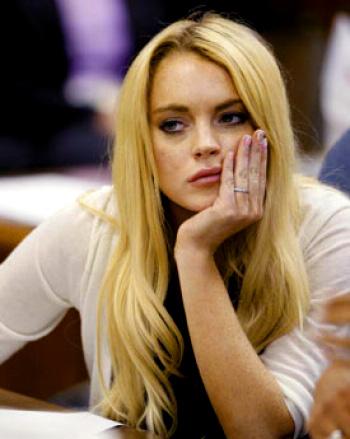 Lindsay Lohan was taking a powerful cocktail of amphetamines and the powerful painkiller Dilaudid during her probation period, RadarOnline.com has exclusively learned.
The shocking list is contained in the 24-year-old's probation report, which was given to a Beverly Hills court Tuesday.
It is expected to be released publicly Wednesday.
VIDEO: Lindsay Lohan Sentenced To 90 Days In Jail
Lohan, 24, who was sentenced to 90 days in jail for violating the terms of her probation, was also taking Adderall - an amphetamine used as part of a treatment program to control symptoms of attention deficit hyperactivity disorder.
Article continues below advertisement
The actress was also taking a combination of other drugs, including anti-depressants Zoloft and Trazodone. She also takes Nexium, which is used to treat acid reflux.
They were all legally prescribed to Lohan, RadarOnline.com has been told.
The drugs were detected in the Mean Girls star's system after she began random drug testing on May 26.
The combination had the potential to "kill her" when mixed with alcohol, said one source.
"Judge Revel was very concerned that these drugs mixed with alcohol could kill her," said the insider.
RadarOnline.com can reveal Lohan was prescribed Dilaudid for pain after dental surgery.
Lohan had four wisdom teeth taken out on June 4, 2010.
"It appears that Lindsay is still taking the Dilaudid, at least until very recently," said a source.
The other medications were prescribed by a different medical professional, we're told.
Article continues below advertisement
Said the source, "Were these prescriptions legal? Absolutely. Is there cause for concern for Lindsay's health and well being given her battles with substance abuse? Absolutely.
"We simply don't want Lindsay to end up as a sad Hollywood statistic, and sadly, it's often the legal prescription drugs that have taken the lives of so many that are simply way too young,"
Lohan was allowed to take these prescription drugs while she was out on bail because they were prescribed by a doctor.
RadarOnline.com has been told she proved to the court -- and the probation department overseeing her case -- that she had valid prescriptions.
Yet it remains unclear if Lohan will be allowed to take these drugs while in jail.
Lohan was found in violation of her probation after missing seven court-ordered alcohol classes during a 27-week period.
The actress, who cried in court during the sentencing, was also ordered to complete a 90-day inpatient substance abuse program by Judge Marsha Revel.