Exclusive
EXCLUSIVE: Judge Issues Order Prohibiting Robert Shapiro From Discussing Lindsay's Case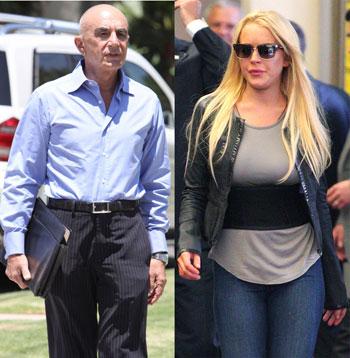 Robert Shapiro has been ordered by Judge Marsha Revel not to discuss the Lindsay Lohan case, RadarOnline.com is reporting exclusively.
Shapiro, who took over as Lohan's lawyer but then was off the case Tuesday, is scheduled to be a guest on The Larry King Show this evening. That was brought to the attention of Deputy District Attorney Danette Meyers. Meyers was concerned that Shapiro would reveal confidential information about Lindsay because he saw contents of her case file. Meyers wanted to make sure that none of those details were talked about in the media.
Article continues below advertisement
"I was concerned that Mr. Shapiro would talk about things that he had access to as he represented to the court that he was
Ms. Lohan's attorney, but he no longer is," Meyers told RadarOnline.com exclusively. "There are private matters in her file that need to remain confidential for her privacy, and I didn't want him to divulge any of that information publicly.
"The court ordered that he was not to discuss anything about Lindsay's case."
MORE ON:
Celebrity Justice
Shapiro dropped Lindsay as a client and notified Judge Marsha Revel late Monday that he was no longer on the case.
Shawn Chapman Holley appeared in court this morning with Lindsay as she surrendered to begin her 90 day sentence. Chapman Holley had never signed a substitution of attorney form.
Lohan was taken to jail on Tuesday.