Exclusive
EXCLUSIVE: Jesse James' Texas Plans Hit Snag, Ex-Wife Doesn't Want To Move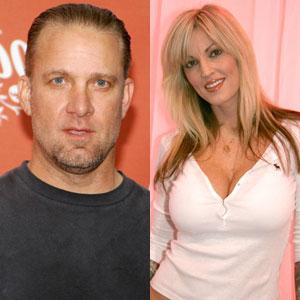 Jesse James' plans to move to Austin may be facing a crucial obstacle. Janine Lindemulder, his ex-wife and mother of his youngest daughter Sunny, does not want to move to Texas, RadarOnline.com has learned exclusively.
"Jesse is determined to move to Austin but Janine wants to stay in California so it could get messy," a source told RadarOnline.com.
Though James' divorce to Sandra Bullock was finalized last week in Texas, the West Coast Choppers CEO is determined to build a life in Austin where Sandra has a home and a couple of businesses. James' first wife Karla already put her home on the market to make the move with their two kids Chandler and Jesse Junior.
Article continues below advertisement
EXCLUSIVE: Jesse James' Ex-Wife Splits With Husband To Pursue Custody Claim
On July 12, 2010, James and Lindemulder are slated for a showdown at Orange County Family Court for custody of their 7-year-old Sunny.
"Jesse likes to get his own way and Karla is very compliant to his plan but Janine does not want to make the move," the source added. "He will not be allowed to take Sunny out of state without court approval and he's furious that Janine won't comply with his wishes."
The source says Janine "has passed all her drug tests and has complied with the court orders who have now granted her unsupervised visits with her daughter."
The bitter custody battle between James and former porn star Lindemulder took a bizarre twist recently after her estranged husband Jeremy Aikman wrote to the court saying she was an unfit mom. Aikman then retracted the claims which RadarOnline.com revealed were made after he had a private telephone conversation with James who persuaded him to pen his poisoned letter against Lindemulder.
Article continues below advertisement
Commissioner Thomas Schulte threw out James' attempt to block Sunny's visits with her mom after Lindemulder presented an e-mail that Aikman subsequently wrote to Janine. In it, he admitted to acting "very immature" and to having "told Jesse James things about Lindemulder that were not true."
Aikman told RadarOnline.com: "I wished that I had never made that call but Jesse persuaded me to write the letter after he told me stories about when he was with Janine. I had a lot of crazy feelings of pain after we split up and I put my energy into those and sided with him which was a mistake. Janine is a good mom to Sunny and she is clean of drugs just now - I want to make that clear. I was frustrated with the situation and made a mistake which I wish I could take back now."