Exclusive
EXCLUSIVE: Jersey Shore Star Angelina In Arresting New Relationship -- With A Cop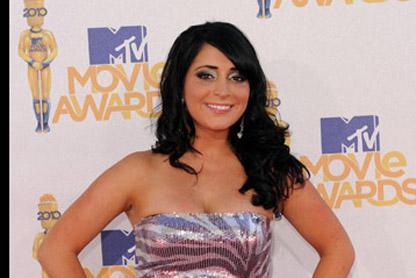 Article continues below advertisement
Angelina was dating someone else at the time and things were on the rocks, she revealed in an exclusive interview with RadarOnline.com.
"I was really upset and he came over and comforted me. He basically saved me."
She thinks this could be the real thing, not a reality TV show romance, she explained.
"He likes me for who I am – not because I'm on the Jersey Shore, he's a real guy who holds the door open and does sweet things for me, like he gave me a Build-A-Bear dressed as a cop for my birthday."
Paul -- whose last name she is keeping a secret for now -- is an extremely family-oriented guy and Angelina was thrilled on Thursday when she finally met his mom. "She was really sweet, we got along so well."
"This is a real relationship, we have fun together and really care about each other."
Angelina In The Indashio Dresses
When asked if the boys in Jersey are going to be scared to approach her now she's dating a bachelor in blue, Angelina responded. "Boys don't care! They'll hit on girls even if their boyfriends are sat right next to them."