EXCLUSIVE: Jersey Shore Resumes Filming After Tense Week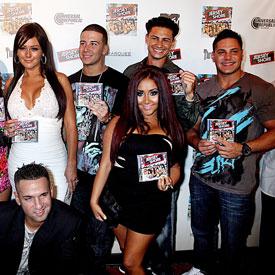 Jersey Shore resumes filming Friday in Seaside Heights New Jersey, RadarOnline.com has exclusively learned, as crews have been prepping over the past few weeks for the arrival of the Garden State hellraisers.
While filming could have started sooner, the cast's contract negotiations brought production to a halt, with the reality stars even staging a strike this past Sunday. Mike "The Situation" Sorrentino on Monday was the first to sign back on, and one-by-one, the rest of the cast followed suit.
Article continues below advertisement
This week the entire cast resumed filming the show -- except for Angelina Pivarnick, who walked off in Miami with only two episodes left to shoot, telling RadarOnline.com that high drama, hot tempers and poor working conditions were the reasons for her abrupt exit.
A new girl is slated to take her place in the show's upcoming cycle. Another source told RadarOnline.com that the new addition is a really good friend of one of the cast members. "It is a good replacement for Angelina," the source added.
The new season of Jersey Shore, featuring the cast in both South Florida and New Jersey, premieres on MTV Thursday, July 29 at 10/9c.
Despite the drama, the cast is looking forward to begin shooting. "They're excited to get started and the girls just hope they'll finally get the first choice of bedrooms this time." In Miami and in the first season, the boys had first dibs on the bedrooms.
Working Conditions On Jersey Shore "Sucked," Says Dumped Angelina
Not everything has changed, the guidos will be back working at the same T-shirt shop as before.