Exclusive
EXCLUSIVE: Celeb Rehab's Odd Couple - Janice Dickinson & Frankie Loms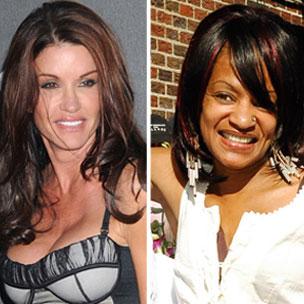 Janice Dickinson and Frankie Loms are the mismatched Odd Couple of the new season of Dr. Drew's Celebrity Rehab, RadarOnline.com has learned exclusively.
The two -- Janice is a 5'10" model and Frankie is the barely 5' tall mom of R&B star Keyshia Cole -- have been thrown together in the Pasadena Recovery Center, and the results have been explosive.
"There are already fireworks going off between them," a source tells RadarOnline.com. "They're constantly calling each other 'crazy' and their backgrounds are so different, neither understands where the other is coming from."
Article continues below advertisement
One thing the ladies have in common is a history in reality TV. Janice has done several shows while Frankie starred in the short-lived BET series, Frankie and Neffie.
It will all make for good TV though, the source says, assuming the women can survive living together.
Season 4 of Celebrity Rehab is expected to premiere in October on VH1.