EXCLUSIVE VIDEO INTERVIEW: You're Headed To A 'Horrible Place', Jailbird Tells Lindsay Lohan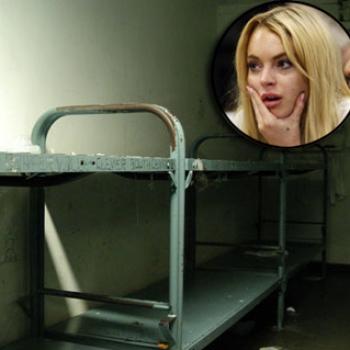 A veteran inmate at the jail where Lindsay Lohan is headed exclusively tells RadarOnline.com the Mean Girls star should expect a "very horrible place."
As Team Lohan tries to keep the actress out of the California slammer -- after Judge Marsha Revel sentenced her to a 90 day sentence for probation violation -- inmate Lisa Soto lifted the lid on what life is like inside the all-female Century Regional Detention Facility, that infamously housed Paris Hilton and Nicole Richie.
Article continues below advertisement
While Soto walked free from the Lynwood, California, facility on Wednesday, she revealed that news of the Mean Girls star's pending incarceration was buzzing throughout the jail.
"They are going to give her problems – everybody thinks she will get special treatment," said Soto.
SHOCKING PHOTOS: Lindsay Lohan Had 'F*CK U' On Her Nails During Explosive Court Hearing
"It's horrible, very horrible, we're 23 hours in a cell, two persons to a cell. Lindsay is not used to a place like this.
"I've been doing this for 18 years of my life – it is not something new to me."
VIDEO: Lindsay Lohan Sentenced To 90 Days In Jail
Lohan, 24, is supposed to surrender herself on July 20, after she was found in violation of her probation after missing seven court ordered alcohol education classes during a 27-week period.
Within two days of leaving jail, the actress has to surrender herself to a court-ordered rehabilitation program.
Article continues below advertisement
But another Lynwood inmate said Lohan will struggle to return to normal life, because the experience of being housed at the facility could leave her with deep psychological scars.
"Although Lindsay will be in solitary confinement it is very difficult to stay at Lynwood," she told RadarOnline.com.
"You are not allowed any prescription drugs and they will only offer you things like Tylenol if you are in pain.
"The worse part is when they close the cell door at night because it feels very claustrophobic and this can be mentally damaging
"The cells are painted white and are only around 12-ft by 6-ft they have simple beds with a basic sink that only has cold water.
"It can be very hard to sleep because you lose track of time as only limited light comes through the tiny smoked glass window.
"If Lindsay is not tough mentally before she starts her sentence it's going to be really hard for her to adjust, hopefully, she will not have to withdraw from drugs while she is in Lynwood because that would be horrible.
Article continues below advertisement
"The prison guards are tough and mean and will not stand any nonsense. The wake-up call is at 5:30 am and breakfast is just cereal and milk.
"Lunch is at 11.30am and dinner is 4.30pm - the food is very bad and a lot of people eat from the vending machines as you are allowed $10 concession cards.
EXCLUSIVE VIDEO INTERVIEW: Michael Lohan Says "Drugs Are Killing My Daughter"
"You are allowed two hours of 'programming time' where you can watch television with a group of people and if there are a lot of people inside the facility it is really hard to get a shower.
"Hopefully for Lindsay when she goes to start her sentence the jail will be full -- that way she will get out early.
"But whatever happens it is going to be very tough for her because it is not a lifestyle that she is used to."
Lohan was found in violation of her probation after missing seven court ordered alcohol education classes during a 27-week period.
She has been on probation since August, 2007, after pleading guilty to drug charges and no contest to three driving charges.
Article continues below advertisement
In May, Lohan was ordered to wear an alcohol-monitoring bracelet after missing a mandatory court hearing, because her passport was allegedly stolen.
After the hearing, Deputy District Attorney Danette Meyers told RadarOnline.com, in an exclusive interview, Judge's Revel's decision was appropriate.
"Ms. Lohan was clearly in violation," Meyers said.
"I wanted to get the evidence in regarding the SCRAM device as the bracelet didn't only go off, but it was tampered with... (but) Judge Revel was fair and conducted a fair hearing."
radar_embed service=5min.com src=" http://pshared.5min.com/Scripts/PlayerSeed.js?sid=1126&width=486&height=412&playList=517711806&sequential=1&shuffle=0"