Exclusive
SHOCKING PHOTOS: Lindsay Lohan Had 'F*CK U' On Her Nails During Explosive Court Hearing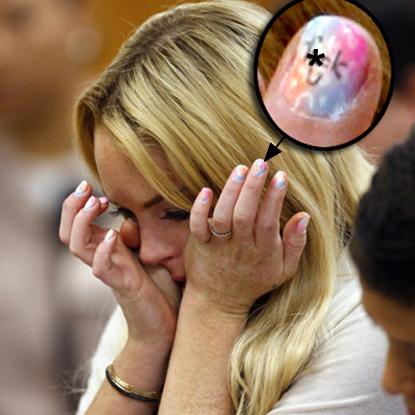 While Lindsay Lohan didn't exactly give the finger to Los Angeles Superior Court Judge Marsha Revel, who threw the book at her Tuesday, RadarOnline.com noticed a shocking message painted on each of the trouble starlet's middle fingernails: the phrase "F*CK U."
The message was stenciled in over a colorful pattern on each of the nails. Photographers caught plenty of close-ups, particularly during Lohan's breakdown after Revel sent a much clearer message in giving the Mean Girls star a 90-day jail sentence for a series of parole violations in connection with her 2007 conviction.
Article continues below advertisement
Following her tough Tuesday, the 24-year-old actress turned to an old friend -- Twitter -- and responded to messages from a few well-wishers, most notably socialite Kim Kardashian, who she told, "thank you so much - thanks for being such a good friend, it means a lot to me."
She also Tweeted to a friend named Lyrica Anderson, who is a songwriter based in Southern California, according to her MySpace page.
Lohan asked Anderson, "can you and chris come by my apt? please."
Lohan will be permitted to surrender herself into custody July 20.
Upon completion of her jail sentence, Lohan was sentenced to 90-days in rehab.