Exclusive
EXCLUSIVE INTERVIEW: Jeremy London - "My Wife Suffered Two Mini-Strokes And A Brain Hemorrhage"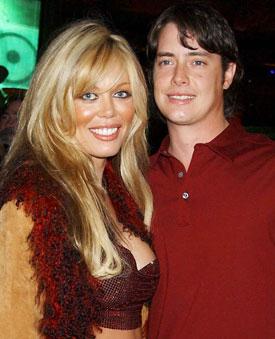 Actor Jeremy London's wife Melissa, suffered two mini-strokes and a brain hemorrhage, hospitalizing her for five days, the actor told RadarOnline.com in an exclusive interview.
"Melissa did have a brain hemorrhage and two mini-strokes, but she's fine now apparently," London told RadarOnline.com from the Pasadena Recovery Center where he's been shooting the VH-1 show Celebrity Rehab.
"I'm doing awesome. I'm really glad I did this. I'm here to stay sober through this traumatic time."
Article continues below advertisement
As RadarOnline.com reported exclusively, Melissa was admitted to the Pasadena Recovery Center in Pasadena, Calif., last Wednesday to undergo treatment for an addiction to prescription pills.
Melissa's mom, Kayla, told RadarOnline.com that she didn't know her daughter had been hospitalized until nearly a week after the incident, and tearfully recounted the moment she finally heard the news.
"She was in the hospital for five days before anyone contacted me," Kayla told RadarOnline.com. "I thought she was in rehab. They took her cell phone so she couldn't call anyone. She was all alone.
"I finally got a call late Saturday night and it was Melissa and Jeremy on conference, and they told me that she was in the hospital with a stroke and a brain hemorrhage. I couldn't believe what I was hearing."
As RadarOnline.com previously reported, Melissa was released from the hospital and she chose to return to treatment. Kayla confirmed Melissa is "doing better" but that it's "been bad."
"They did all these horrible tests on Missy. She had an angiogram done on her brain. The doctors are still waiting to hear back about some of the tests."
Article continues below advertisement
Jeremy and Melissa, who wed in 2006, have endured a rocky marriage fueled by addictions to prescription pills. The couple lost custody of their 3-year-old son Lyrik as a result.
"Lyrik's been living with me for two years," Kayla told RadarOnline.com. "I love my daughter and I really hope she kicks this thing. Jeremy appears to be concerned. But my first priority is my grandson. Lyrik really needs a mom and a dad."
As RadarOnline.com was first to report, Jeremy made big headlines this year when he told police he was kidnapped by three men in Palm Springs, California and forced to smoke drugs. One man has been arrested in connection with the incident.