Exclusive
EXCLUSIVE: George Clooney's Girlfriend Implicated In Italian Cocaine Scandal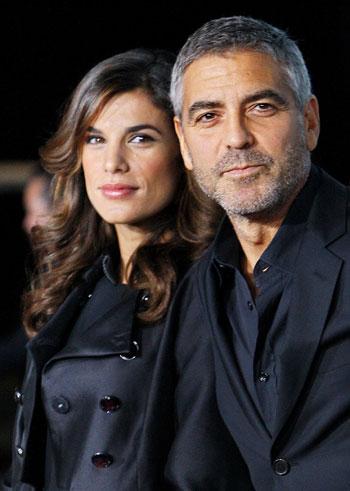 George Clooney has a squeaky clean reputation but his Italian model girlfriend Elisabetta Canalis has just been implicated in a cocaine scandal that led to the arrest of five people.
RadarOnline.com has discovered that Canalis has been implicated in an Italian cocaine scandal where one witness testified:
"I've done cocaine with other people including Elisabetta Canalis."
According to one of Italy's most prestigious newspapers, Corriere della Sera, an investigation was launched in 2008 into two Milan, Italy nightclubs that were allegedly running an escort and prostitution ring fueled by alcohol and cocaine. Those nightclubs were regularly frequented by celebrities.
Article continues below advertisement
"They the girls were brought into the clubs by the various characters acting as PR for the evenings to entertain customers at the tables of the private club," prosecutor Frank Di Maio stated in the investigative documents.
"Their job was to encourage these customers to drink alcohol as to increase the table's bill, followed up by sex off premises."
Karima, a 26-year-old model from Paris, France testified she lived in Milan for over a year and ended up as a prostitute at one of the nightclubs implicated in the ring, The Club.
Karima gave verbal testimony to prosecutor Di Maio on October 21, 2008 stating she had done cocaine with Canalis, 31. That testimony was recently handed over to Judge Giulia Turri. (Clooney did not start dating Canalis until 2009.)
Using the investigation and testimony obtained in 2008, prosecutors were able to seize and shut down the nightclubs on July 26, 2010 as well as put five of the main offenders under house arrest.
MORE ON:
Elisabetta Canalis
Article continues below advertisement
The two nightclubs – Hollywood and The Club – were described as a "free zone" with "free cocaine for VIP's" where celebrities considered themselves above the law.
"The VIP's were protected, hidden…able to safely conduct themselves in any way, hidden from the court of public opinion," Di Maio said.
"They were often given cocaine for free by those who want to sit at a table of famous people…they want the visibility that comes from being seated at a central table, and to be seen with models, or celebrities from fashion, entertainment and sport."
David Guglielmini, Director of Vimar – the company that operates Hollywood – is one of the offenders currently under house arrest.