EXCLUSIVE DOCUMENT: Duane 'Dog' Chapman & His Bounty Hunters Sued Over Shootout; Read The Lawsuit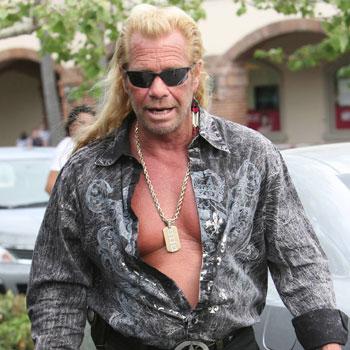 Duane 'Dog the Bounty Hunter' Chapman may soon face a Colorado jury as a result of the now infamous April 2009 alleged shootout with a wanted man, RadarOnline.com has learned.
Hoang Nguyen, who is currently on probation, has filed a civil lawsuit against Chapman and several of his associates and Radaronline.com has the exclusive documents.
EXCLUSIVE DOCUMENT: Read The Lawsuit
The lawsuit stems from Nguyen's much publicized run-in with Chapman and his crew who were filming in Colorado Springs where they went to pick up Nguyen for skipping bail on a number of outstanding warrants.
Article continues below advertisement
Nguyen claims he was riding home on his motorcycle when Chapman and his two sons, Duane II and Leland, shot at him with pepper pellets, striking his body. Nguyen goes on to claim that the three men then falsey told police it was Nguyen who had a gun and had fired at them.
In court documents, Nguyen says it was based on those alleged false statements that he was arrested and charged with attempted first degree murder - a charge that was later dismissed by the District Attorney for lack of evidence.
MORE ON:
Dog The Bounty Hunter
But Nguyen says the damage to his reputation had already been done as a result of the charge. He lost his job and was forced him to relocate to find employment.
Nguyen is suing for malicious prosecution, defamation, false arrest, battery and civil conspiracy.
He has requested a jury trial and is seeking more than $100,000.00 in damages.
When asked to comment about the lawsuit Chapman's rep said in a statement, "Have you seen the episode in question? I think it pretty much sums up what we are dealing with here."