Exclusive
EXCLUSIVE: Designer Threatens To Sue Jersey Shore's Angelina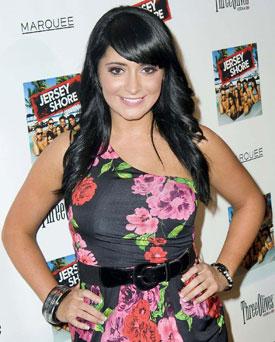 MTV Jersey Shore's Angelina Pivarnick and the designer who dressed her for MTV Movie Awards in June continue to be locked in a bitter dispute over the clothing. RadarOnline.com has exclusively learned designer Indashio is threatening to sue the reality TV star.
DOCUMENTS: More Documents About Their Dispute
"I plan on suing for my services as well as sic damanges to my business. Having my signature dresses on the sic industries biggest supermodels is priceless and you really ruined my show!" Indashio wrote in an angry e-mail to Angelina on July 21. Indashio was upset that he was unable to showcase the dresses at Style Week Jamaica, where he was slammed for closing his show with a line of casual shorts and tops rather than the glitzy creations he lent to Angelina.
Article continues below advertisement
"My clothes have never been sic calleed anti-climatic or casual!!! I have been so sic devistated by this I cannot wait to have my day in court!" he wrote.
EXCLUSIVE: Jersey Shore's Angelina Dropped By Publicist Over Partying And Money Disputes
When Pivarnick finally returned the dresses, the designer claims they were dirty and also took aim at Angelina's public comments regarding his clothes: "THEN YOU HAVE THE NERVE TO TALK ABOUT MY DESIGNS TO THE MEDIA! IF sic SEQUENTS WERE POPPING OFF sicITS CAUSE YOUR A FAT A** AND BROKE!" he added. Angelina ended up choosing a tube mini dress that had a metallic animal print for her red carpet look at the awards show. The one of a kind dresses range from $495 in value to $1,200.
Indashio billed Pivarnick a total of $6,750 which covered a fitting fee, dry cleaning, late return fee, and "damages model" among other things.
Pivarnick's rep Bryan Konoski sent an e-mail to Indashio asking him to cease and desist communication with Angelina and informing him that no payment will be rendered.
EXCLUSIVE: Angelina No Longer Living With Jersey Shore Cast Mates