Exclusive
EXCLUSIVE: Child Protective Services Visits Britney Spears' Home After Abuse Charges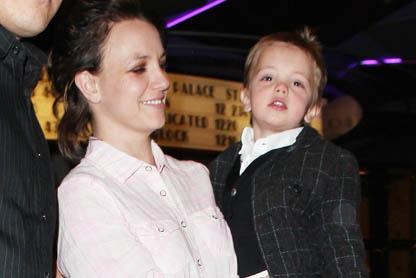 Social workers made a visit to Britney Spears' home as part of an investigation by the Los Angeles Department of Children and Family Services that the singer abused her two sons, RadarOnline.com has learned exclusively.
The blockbuster development comes after Spears' former bodyguard, Fernando Flores, allegedly claimed that the pop star abused her sons Sean Preston and Jayden James last March or April.
Article continues below advertisement
Flores told a British tabloid that Britney asked Flores for his belt, and then he says he witnessed her abusing the boys.
Flores didn't get into specifics about any alleged injuries, or if one or both children were targeted.
Now RadarOnline.com has learned that a complaint was lodged against Spears, forcing DCFS to investigate.
A Spears family insider tells RadarOnline.com, "Social workers visited Britney's house recently about the alleged abuse allegations. Under California law, anytime anyone makes a report to child protective services, a welfare check is required to be made under law to further investigate.
"It doesn't matter who has made the claim, or how outlandish it may seem. During the visit by officials, there was absolutely no signs of abuse. The boys are happy well adjusted toddlers that love their mama and Britney is fiercely protective of them.
"The investigation is 95 percent complete and no further action will be required. All that is essentially going to be done at this point is for the paperwork to be finished and then the case will be closed."
Article continues below advertisement
Flores is described to RadarOnline.com as "an opportunist seeking his 15 minutes of fame. Flores is a former disgruntled employee that is trying to take advantage of Britney."
Britney and K-Fed were spotted at the boys' pre-school graduation together last week.
The family insider says, "Britney and Kevin parent the children together, and they have developed a very healthy relationship that truly enables the boys to thrive. They are united in parenting the boys and trying to raise them in as normal environment as possible.
"If Kevin thought for one moment that the boys were in harms way while they are with Britney, he would immediately go to family law court to have the situation addressed and dealt with. Britney is rarely alone with her sons, usually her boyfriend, Jason Tarwick, is with her during their visits, or her dad is there."
There has been absolutely no action by K-Fed or Britney regarding any custody issues with the boys, RadarOnline.com has confirmed with public records with the Los Angeles Superior Court system. The last time there was any movement was in September 2009, and that dealt with one of the parents getting one more day of visitation per week.
Article continues below advertisement
This isn't the first time DCFS has investigated Spears. Back in 2007, her former bodyguard, Tony Barretto, had a two-hour meeting with officials from the office and his attorney, Gloria Allred.
Barretto claimed to witness Spears using drugs, and was concerned about her then erratic behavior. Barretto requested that a formal investigation be opened into the matter. Spears eventually lost custody of her sons in early 2008 after she was placed under a psychiatric hold.
Spears has flourished since being placed under conservatorship, and she essentially has joint custody of her sons.
In 2006, when Spears was still married to Federline, a nanny accidentally dropped then 7-month-old Sean Preston, and he subsequently hit his head. DCFS visited the Spears household after Brit and Kevin took their son to the hospital and concluded there was no evidence of abuse, and no further action was taken at that time either.