Clashing And Smashing Color: Best And Worst Monday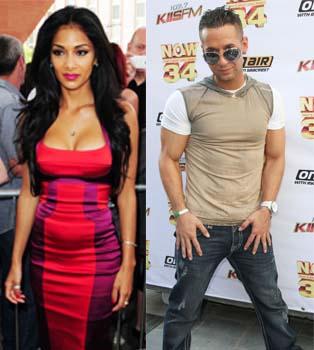 Over the weekend celebs weren't afraid of adding a little color to the mix. While some looked totally smashing in their color happy attire, others, including a certain Jersey Shore star, encountered clashing Situations in mismatched duds.
Nicole Scherzinger has been fulfilling her X-Factor judging duties in high style. After rocking two Victoria Beckham dresses flawlessly, the Pussycat Doll showed up in a red and fuchsia pencil dress, which totally flaunted her fab figure. Paired with pink lips, a red manicure/pedicure and bright red platforms, Nicole scored our Best look of the day. The Situation has been busy jetsetting around the world, promoting his hit MTV television show in his infamous Jersey Shore style, so maybe he was a little fatigued when he accidentally sported different colored Reebok kicks on his feet?
Article continues below advertisement
As for ladies who opted for non-color, Dakota Fanning was a Twilight sight during a day of traveling, wearing an oversized Fluxus Funk Top with skinny jeans, motorcycle boots and her fave Alexander Wang Rocco bag. Her cute costar Ashley Greene was haute-to-trot as well in neutral tones, wearing super sexy Pour la Victoire heels with skinny jeans and a black top.
What spicy Latina star shook her stuff in every color under the sun at the World Cup closing ceremony? Check out the gallery in Style and find out.