Angel Attire: Best And Worst Friday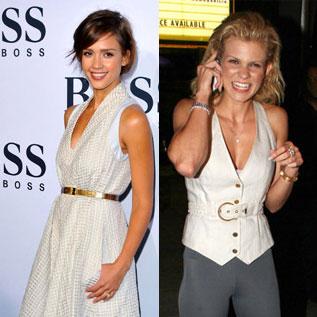 Though she might not be a Dark Angel anymore, Jessica Alba is definitely still a heavenly hottie! The bombshell brunette has been busy jetsetting around Europe, hopping from the Couture shows in Paris to Mercedes-Benz Fashion Week in Berlin, dazzling in bright summer white attire. On Thursday night Jess rocked another angelic look at the Boss Black Event, wearing a delightfully white mini with a gold belt and nude cutout platforms.
Article continues below advertisement
Meanwhile in Los Angeles, another Angel, sister of actress AnnaLynne McCord, committed a fashion faux pas, wearing unflattering grey spandex pants with a cropped vest. Paz de la Huerta also landed in the hall of fashion shame, wearing a WAY too sheer cotton dress, ironically enough, at the Time For Change premiere in NYC.
Gwyneth Paltrow sizzled in summer style, rocking her monogrammed Goyard bag and Givenchy sandals with casual duds in Paris, while Milla Jovovich stunned in an emerald green tunic at a Berlin Fashion Week event.
What Worst Dressed re-offender and ex wife Lorenzo Lamas finally found a partner in fashion crime? Check out the gallery in Style to find out.