Charlie Sheen Ordered To Appear In Court Monday On Domestic Violence Charges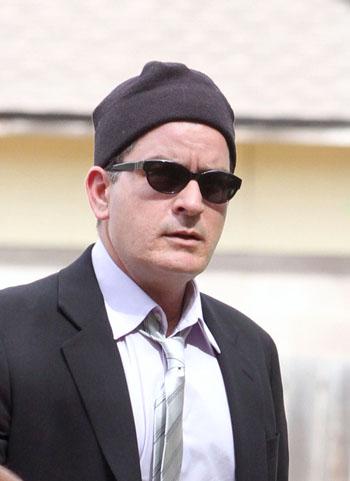 Charlie Sheen is REQUIRED to be in court in Aspen, Colorado Monday for a scheduled hearing on the charges that he assaulted his now-estranged wife Brooke Mueller, RadarOnline.com has learned.
The hell-raiser has been keeping a low profile in recent weeks as his lawyers try to strike a plea deal with the Aspen District Attorney's office.
The actor is hoping an agreement can be reached that will make him available to work on Two And A Half Men when it goes back into production on August 6, 2010.
Article continues below advertisement
A court official told RadarOnline.com: "His appearance is required and we fully expect Mr. Sheen to be here on Monday to appear before Judge James Boyd."
RadarOnline.com previously reported that the two opposing sides were edging closer to striking a deal that will be announced Aug 2, in the case that has had several legal twists and turns since the actor allegedly assaulted Mueller on Christmas Day.
According to a source, Sheen's lawyer Yale Galanter was "pleased" with the progress being made in the case.
The source told RadarOnline.com: "Yale believes that the two sides are getting close – he has struck up a good relationship with the District Attorney's office despite their differences in the past."
But it remains to be seen if an agreement will finally be struck on Monday as the actual terms of the probation could still be a sticking point.
Article continues below advertisement
The Aspen District Attorney's office had offered the actor thirty days in jail (which could have been reduced to fifteen for good behavior) and participation in a work release program. At the last minute, Sheen was deemed ineligible for the program which would have allowed him to spend the day outside of the jail working at a local theatre. Sheen also believed he would have been allowed to smoke, which turned out not to be the case.
RadarOnline.com understands that the Two And A Half Men star and his legal team are now trying to make a deal for no jail time but will accept probation. Sheen is now willing to agree to probation because he feels he can't go without smoking and he wants to be out of jail to help Brooke Mueller take care of their twin boys, the source explains.