VIDEO & PHOTOS: Lindsay Lohan Handcuffed And Taken Into Custody To Begin 90-Day Jail Sentence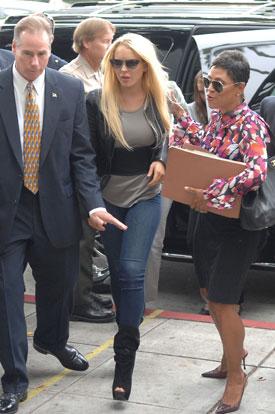 Lindsay Lohan was taken to a women's detention center in Lynwood, CA. Tuesday to begin serving her 90-day jail sentence following a court hearing in Beverly Hills earlier in the day during which she was handcuffed and taken away by authorities, and RadarOnline.com has all the details for you.
The hearing lasted less than five minutes. Prior to the hearing, Los Angeles Superior Court Judge Marsha Revel ruled that the media would not be allowed to photograph the Mean Girls star as she was placed into custody, or they would be held in contempt of court. Revel also ordered that there would be no house arrest, furlough or monitoring from this point on.
Article continues below advertisement
Lilo's lawyer, Shawn Chapman Holley, told the court she had just filed proof Lindsay had completed the court ordered alcohol eduction program; she also said that famed O.J. attorney Robert Shapiro was never the official attorney of record, which Revel confirmed.
Moments after the hearing finished, Lindsay's father Michael Lohan left the courtroom, saying he couldn't bear to watch her. As she was led away, her father yelled out to her, "We love you Lindsay!"
Michael's attorney Lisa Bloom then addressed reporters on Michael's behalf saying, "Michael spent the morning praying for this daughter and he's devastated that she's going to jail. He appeared this morning to support her and will continue to pray for her."
Lindsay's mother Dina had personally accompanied Lindsay from her home in West Hollywood to court Tuesday morning, and did not comment directly after her daughter was taken away.
Lohan, 24, has been sentenced 90 days at the Century Regional Detention Center in Lynwood, California -- the same facility Paris Hilton and Nicole Ritchie had served time for their 2007 convictions.
Because of jail overcrowding, it is likely that Lindsay will serve a maximum of three weeks behind bars. After her jail sentence, Lindsay has been ordered to spend 90 days in rehab.