The Best, Worst And Wackiest Dressed At Comic Con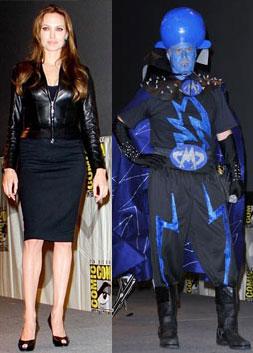 On the first day of Comic Con 2010 in San Diego, Hollywood's hottest stars were met by the most crazed of comic book fans, resulting in a melting pot of the Best, Worst and Wackiest wardrobe choices we have ever seen!
Angelina Jolie looked more pepper than Salt, while promoting her latest flick, which hit theaters on Friday. Wearing a Dolce & Gabbana pencil skirt with a skintight, sculpted Versace leather jacket and Ferragamo heels, the sultry star scored herself our top style honors! For a second we thought we spotted Brad Pitt standing with Jonah Hill, Will Ferrell and Tina Fey during their Megamind press conference, but then we realized it was only a cardboard cutout of her hunky other half!
Article continues below advertisement
Olivia Munn and Alessandra Torresani hit the GPhoria Strikes Back bash, looking super sexy in drool-worthy duds. The Caprica star paired a skintight LBD with Christian Louboutin heels, while the Attack of the Show! host looked fab in a fringed skirt and shoulder-baring top. Style Siren Amber Heard also made a fierce fashion statement, arriving to the Hard Rock Hotel in a gorgeously patterned blue and white wrap dress with pink ballet flats.
As for the super fans, what can we say? The wackiness ranged from barely clothed Gladiator guys to Ke$ha and Lady Gaga look-alikes!
What funny man almost slipped under our Radar, dressing up in blue man duds?